Coldest air in years headed for Minnesota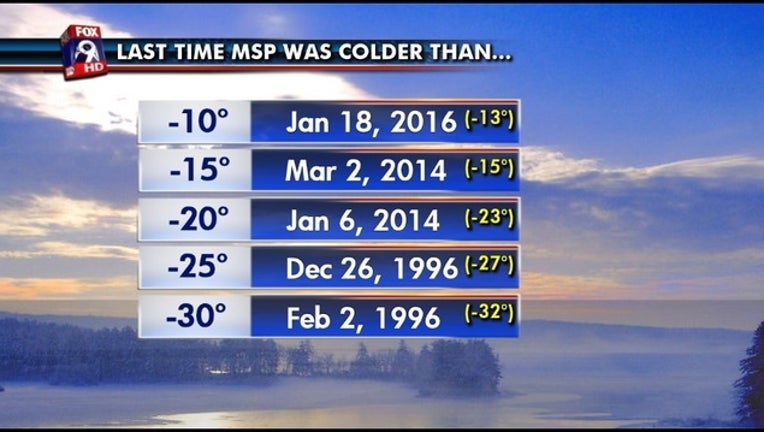 (KMSP) - Just when we thought it couldn't get any colder, it can.  Snow will fly Friday into Saturday and then unbearably cold air will arrive in Minnesota for Sunday.  Some indications show that Sunday morning could be the coldest morning we have seen in nearly 3 years.  So how long has it been since we have seen the really drastic cold?
Well, the metro will get below zero about 2 dozen times a year on average. Most of those are spent in the single digits subzero, but nearly every year, we will get at least one day in the teens below zero… we hit 13 below zero last winter, and it was a pretty mild year.  But getting into the 20s below zero really takes some work.  It's been nearly 3 years since we have been in the 20s below zero, going back to January 2014.  But far longer if you want to get to -25° or even -30°… you have to go back 20 years to find numbers that cold.  In fact, the metro hasn't set a record low at MSP Airport in the winter months (Dec-Feb) since that day after Christmas in 1996.  Crazy!