Children's book written by Minneapolis teacher to be animated short film, provide Somali representation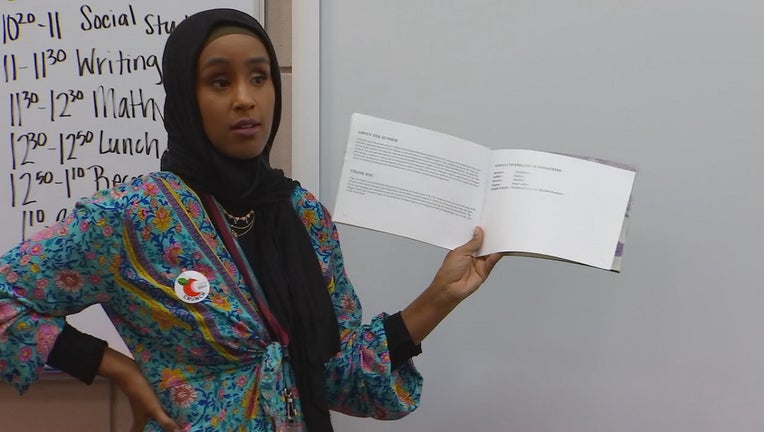 article
MINNEAPOLIS (FOX 9) - Mariam Mohamed, a fourth-grade teacher in Minneapolis is celebrating an exciting new chapter. Not only has she authored multiple books, but now one of her books is being made into a short film aimed at representing Somali children. 
"They remind me of myself," she said. "I think this is why I teach at an all-Somali school."
At Banaadir Elementary, a charter school in northeast Minneapolis, Mohamed's students are captivated each time she reads one of the three books she's authored within her seven years of teaching. 
"I want them to see an authority figure – like a teacher -- who resembles them. Because when I was growing up, I had nothing but white teachers, and I couldn't see myself or picture myself as a teacher," Mohamed said. "I just hope I'm showing them that you can do it too."
The books are about young Muslim children, especially young girls Mohamed knows are underrepresented in literature and mainstream entertainment.
Some filmmakers and production companies agree, and now Mohamed's most popular book about a grandmother's golden rule is being turned into a short animated film. "Ayeeyo's Golden Rule" is set to debut on YouTube later this fall. 
"Aeeya's golden rule means a lot to me because it's based on a true story," she said. "It was based off of a student I was working with my first year of teaching ever, and she was newer to the country and how she was really picked on and bullied."
Mohamed's goal is to write a lot more and turn this film opportunity into a series, with her students at the top of her mind. 
"I've just seen how hungry the students I work with are to be represented.  It's just not fair at this point," Mohamed said. "I want to do it for them more than me, to be honest. I don't have to get a penny off of it."
As a teacher, each book centers around lessons of empathy, people young and old can learn from. 
"There's a bigger reason that I write, and it's for everybody," she said. "Because through literature, especially children's literature, while they are still young and their minds are being molded, I feel like that's where you can really make an impact and an influence, and bridge that gap."
Mohamed's books are available on Amazon and Target or through her website.