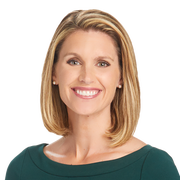 Leah Beno
Anchor/Reporter
Leah Beno anchors FOX 9's Saturday and Sunday morning shows and field reports during the week.  She started with FOX 9 in February of 2009 and joined the weekend team five years later.  During her time Leah has been part of the weekend mornings expanding to include a third hour of news on Sunday mornings.
Prior to joining FOX 9, Leah worked at WGHP in North Carolina, and WWTV in Northern Michigan. Leah is a Michigan native and grew up in a suburb of the Detroit area. She earned her Bachelor of Arts degree in Journalism at Michigan State University.
Through Leah's career she's reported on a wide range of topics and events.  She's sat one-on-one with Sen. Hillary Clinton and Sen. John McCain, she's covered Super Bowl LII, and more blizzards then she can count. Most memorable days in Leah's career include the day Prince passed away, and the day Jacob Wetterling's remains were found.
Answer to the most common question: Alarm goes off at 2:30 a.m.
Leah is married and recently expanded her family to include a second son. Just like Beno, her boys are endlessly curious and constantly on the move. 
The latest from Leah Beno