Snow cover across Minnesota is upside down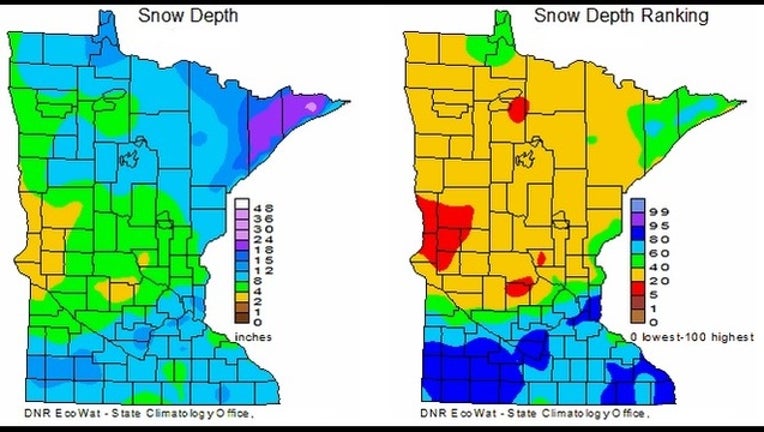 article
MINNEAPOLIS (KMSP) - The Groundhog Day Blizzard not only provided plenty of wind to southern Minnesota, but final snow totals were pretty impressive, especially in the metro. MSP Airport (the official observing station when it comes to climatology) saw 9.4" of snow, which will go down as the 5th largest February snow storm on record.  That one storm was enough to put us back in the running for near normal snowfall so far this winter. 
Now just over 28" of snow has fallen, which is 7" shy of the average now.  But what makes this storm a little weird is there is now far more snow on the ground in southern Minnesota than the north.  While Saint Cloud, Alexandria, and Thief River Falls don't average as much snow during the season as the metro, many of these areas see very little melting through the winter which can allow the snowpack to really add up. 
But this year, many of these areas are running less than the 20th percentile when it comes to snow cover.  Many spots in the North Country are equally as dry with Brainerd, Mille Lacs, Itasca, and even International Falls coming in several inches shy of what is typically on the ground during early February. 
Meanwhile, much of southern Minnesota, and the south metro especially, are experiencing some of their highest snow cover at this point of the season coming in as high as their 90th percentile.  This is why things appear topsy turvy, because it's the North Country that typically has this much snow on the ground. 
We will likely be adding to it over the weekend, but a whole lot of wind will come with that snow as well.