North Dakota under blizzard warning, no travel advised
FARGO, N.D. (FOX 9) - A blizzard warning is in effect for much of North Dakota Tuesday through Wednesday as heavy snow and strong winds will make travel difficult to impossible, the National Weather Service says. 
The eastern half of North Dakota could see more than a foot of snow, while strong wind gusts Tuesday and Wednesday will lead to blowing and drifting snow, as well as whiteout conditions. This could make roads impassable, the weather service says.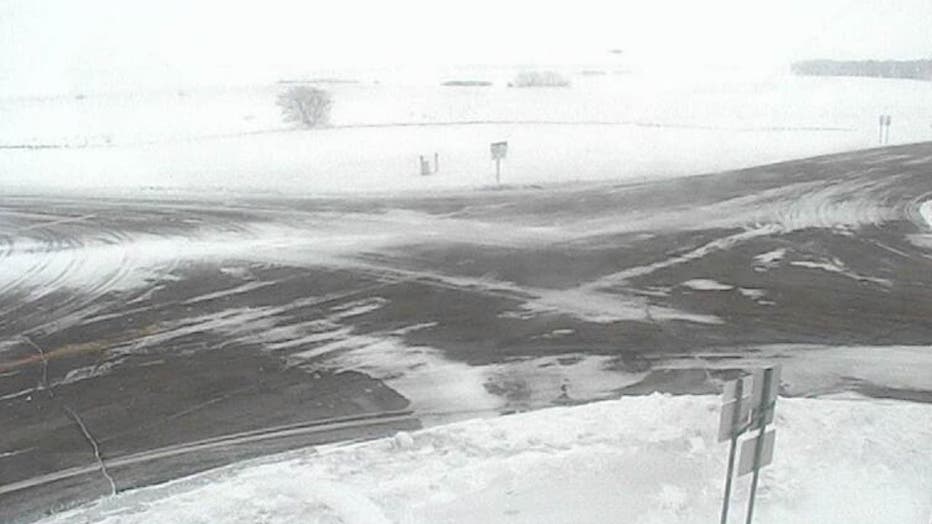 Road conditions in Binford, North Dakota, as of 10:54 a.m. on Tuesday, April 4, 2023. (North Dakota Department of Transportation)
As of 10:47 a.m., the North Dakota Department of Transportation said no travel advisories are in place in Sargent and Richland counties, with travel alerts in effect in other areas. 
"Motorists should be aware of rapidly changing conditions and are encouraged to reduce speeds and drive according to the conditions," NDDOT's website says. 
Snow is expected across the western U.S. and stretching into the northern Plains and Upper Midwest on Tuesday.
The heaviest snow on Tuesday is expected in portions of eastern Wyoming, as well as northwestern Nebraska, North and South Dakota, and into Minnesota.
By Tuesday evening, the heaviest snow will be falling in the Dakotas and Minnesota, with temperatures in the teens across the northern Plains and into the 20s in the Upper Midwest.
The National Weather Service is warning that this storm could potentially break snowfall records, and it's likely that there will be severe travel disruptions, as well as extreme dangers to livestock that are exposed to the elements.
Snow will still be falling across portions of the Dakotas and Upper Midwest on Wednesday, but as the storm continues to move out of the region, snow will begin to taper off from west to east.
Temperatures are expected to be in the 20s in places like Fargo and Bismarck in North Dakota, while cities like Minneapolis will see temperatures around 40 degrees.