Minnesota weather: Temperatures drop below zero Friday morning
(FOX 9) - The snow is done, but the winter weather isn't going anywhere. Temperatures will continue to drop overnight making for a frigid start to Friday.
The low-pressure system that dropped all the snow has since moved over toward Michigan. It will be impacting the New England region over the weekend with snow. We have a high-pressure system that will be moving in from Canada across the Northern Plains, bringing in a surge of cold air.
Because of that, a windchill advisory has been issued for much of the state, including areas just to the west and just to the north of the Twin Cities. It takes effect starting at 9 p.m. Thursday through 9 a.m. on Friday. Wind chill temperatures in those areas are expected to drop between 25 and 35 degrees below zero.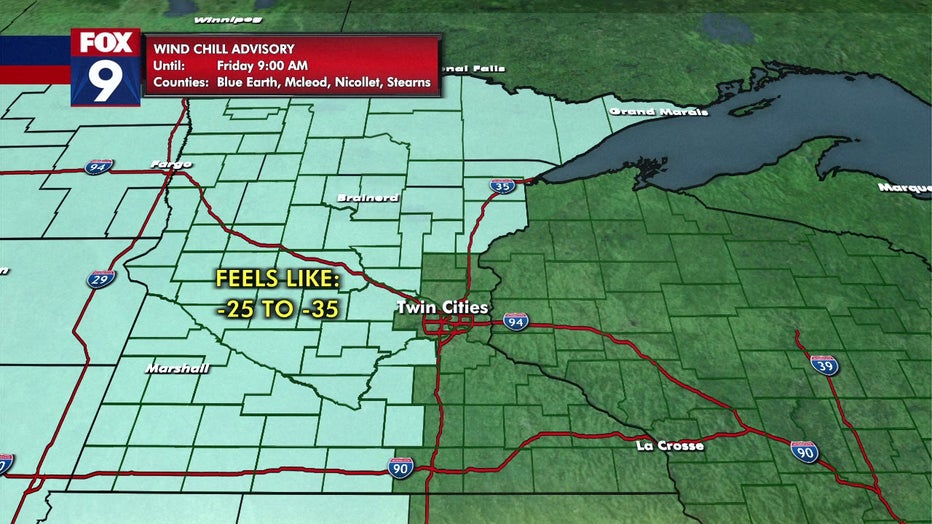 In the metro, temperatures will be nearly as cold. The low will drop to seven below overnight in the Twin Cities with wind chills as low as 10 to 20 degrees below zero.
Temps will rebound over the weekend, with a high of 26 degrees on Saturday and a high of 36 degrees on Sunday.