Minnesota weather: Sunny and pleasant weather continues
MINNEAPOLIS (FOX 9) - The sunny weather continues on Wednesday.
Highs in the upper 60s are in the forecast for Wednesday in the Twin Cities, while lower 70s are possible in western Minnesota. Overnight, it'll be clear with lows in the 30s and 40s. 
A cool front will then move slowly across the state, bringing highs in the 40s across the North Shore on Thursday. Highs in the mid-70s are possible in the Twin Cities and across much of southern Minnesota. It'll be a beautiful day in the Twin Cities. 
The frontal boundary will continue to sag into southern Minnesota and Iowa on Friday, bringing cooler temperatures in the 60s to the Twin Cities with rising humidity and a stray shower possible. This weekend, a few showers are possible with highs in the mid-60s on Saturday and stray rumbles with a high of around 70 degrees on Sunday. Showers will likely continue on Monday, with a high in the low 70s. The sunshine returns for Tuesday. 
The average high for this time of year is around 64 degrees in the Twin Cities.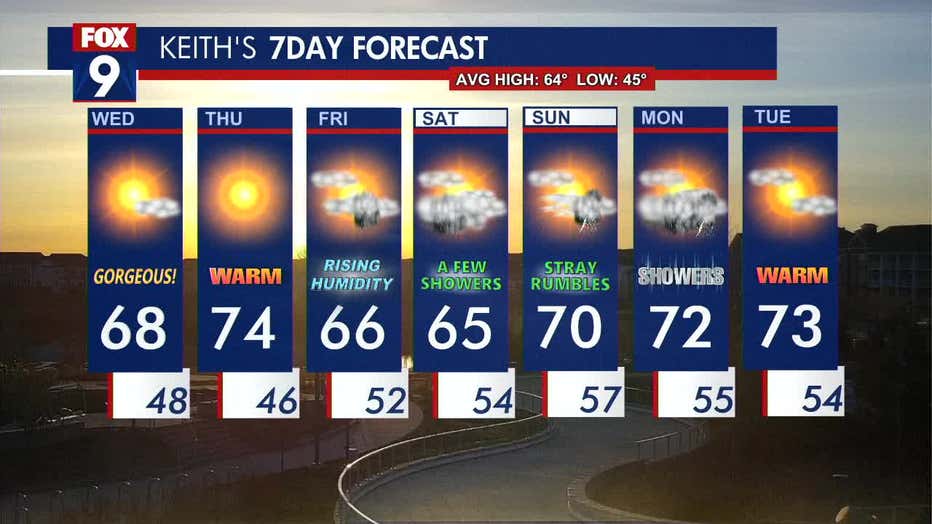 The seven-day weather forecast. (FOX 9 Staff)