Minnesota weather: Here's how warm it'll get during the January thaw
MINNEAPOLIS (FOX 9) - A January thaw begins this weekend, with the possibility for rain early next week. 
Friday will be rather cool but nothing unusual for the month of January. The high will be around 20 degrees for the Twin Cities metro, while greater Minnesota will see highs in the teens. It'll be cloudy, but there will be the occasional pocket of sunshine. 
Then the warmup begins. 
A southwest flow will bring warmer temperatures for this weekend and beyond, with temperatures climbing above freezing by Saturday afternoon. The high on Saturday will be in the low to mid-30s, with a solid thaw from the Twin Cities southward.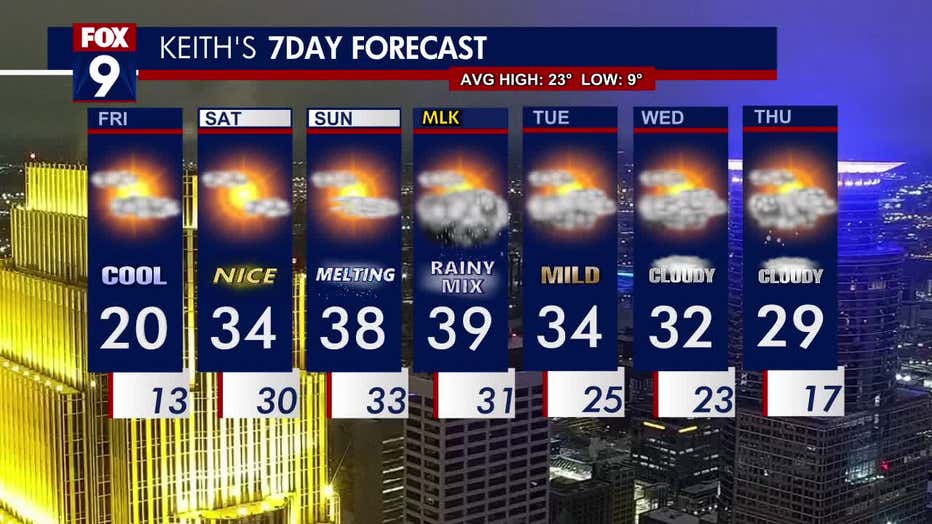 The seven-day forecast as of Friday, Jan. 13.
Then it'll get even warmer, with highs in the upper 30s on Sunday and Monday. Monday could feature some rain and perhaps some snowflakes in the evening. 
Tuesday will be mild, with a high in the mid-30s and Wednesday will feature clouds and temperatures around freezing. By Thursday, the high will be in the 20s, and there may be some light snowflakes.