Minnesota weather: Bitter cold weekend with sub-zero wind chills
(FOX 9) - Bundle up, it's going to be a bitterly cold weekend. 
The weekend will be frigid cold with highs mainly in the single digits but feels like temperatures well below zero.
There was a dramatic 24-hour temperature change from Friday to Saturday as it was nearly 30 degrees warmer in the Twin Cities yesterday. Temperatures topped out at 33 degrees early in the morning on Friday before dropping into the single digits. 
The cold temperatures will stick around for the weekend and into the week with the high on Saturday reaching 10 degrees, but the feels like temperatures closer to -4 due to the wind chills. Saturday could see some filtered sunshine from the thinning of clouds but expect a mostly cloudy day.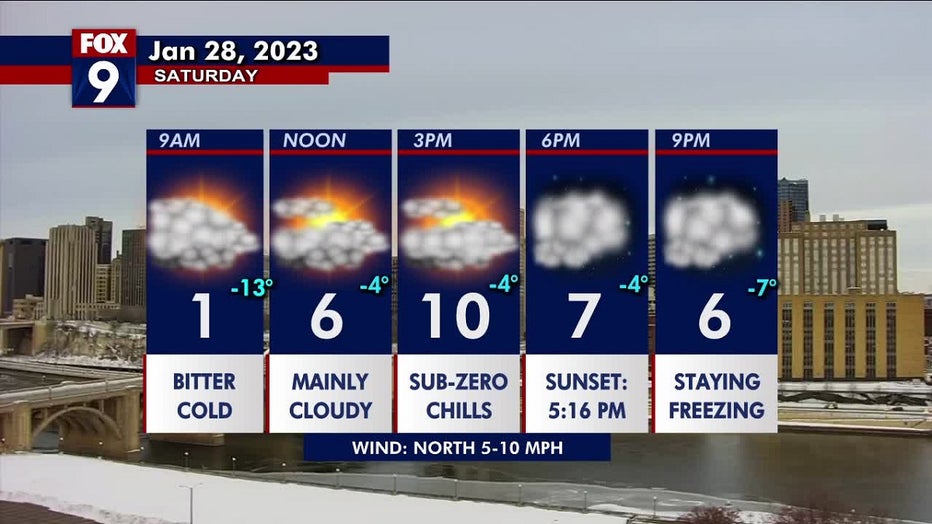 Here's your Saturday forecast
Southern Minnesota at the border of Iowa is under a winter weather advisory on Saturday for a snow system further south. Areas in northern Minnesota are under a wind chill advisory as the feels like temperatures could reach as low as -40 degrees. 
The clouds will clear out on Sunday, bringing sunshine and colder temperatures. The high on Sunday will only be in the single digits, but the feels like temperatures will be in the sub-zeros. 
Looking at the week ahead the cold temperatures will stick around with highs in the teens and sub-zero lows. The average high temperature for this time of year is 24 degrees.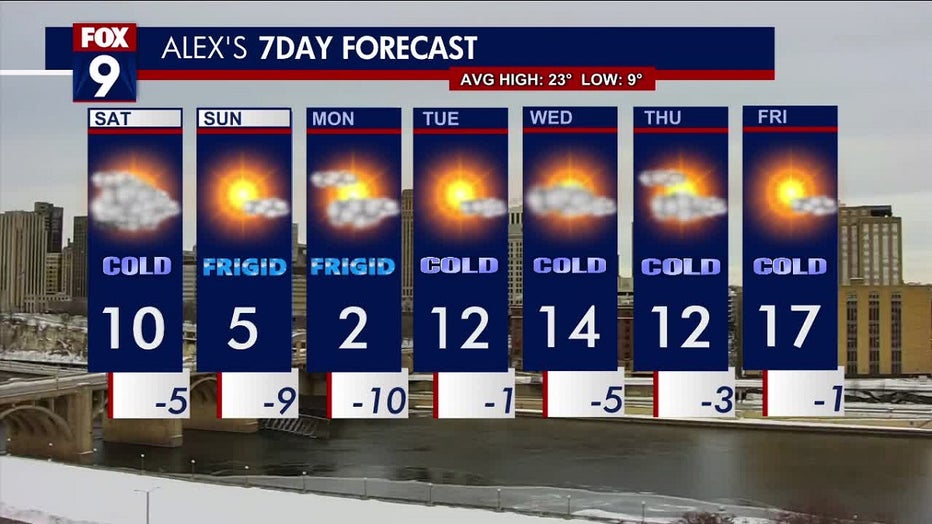 Take a look at your 7-day forecast