Ross Sveback's blue summer cocktails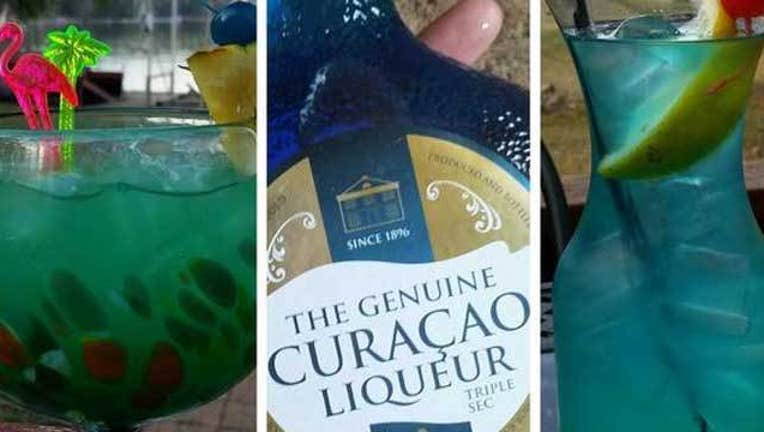 article
Blue cocktails are the hottest trend this year, which means the hottest spirit on the shelf is Curacao( pronounced kur-?-sow). Curacao liqueur was first developed and marketed by the Senior family in the 19th century. To create the liqueur the laraha peel is dried, bringing out the sweetly fragranced oils. After soaking in a still with alcohol and water for several days, the peel is removed and other spices are added. The liqueur has an orange-like flavor with varying degrees of bitterness. It is naturally colorless, but is often given artificial coloring, most commonly blue or orange, which confers an exotic appearance to cocktails and other mixed drinks. The signature blue color is achieved by adding a food colorant, most often E133 Brilliant Blue.
The colored cherries for the cocktails featured are manufactured by Roland Foods and found on Amazon, they come in blue, green, pink, yellow and of course, red. Type in Roland Cherries in the search bar and they will pop up.
The pink flamingo and palm tree drink stirrers, as well as the paper umbrellas were all found at www.DollarTree.com - for, $1 a bag. I reuse the stirrers instead of throwing them away.
Both cocktails use lemon sour, which is easily made at home and ten times better. In a medium saucepan add the peel of two lemons, the juice of six lemons, 2 c. sugar and 2 c. water. Bring to a boil, remove from heat and allow to cool. I do not strain the pulp as I like people to see it is fresh, from scratch.
Adios Mother - A variation on the Long Island Iced Tea. The glasses used are actually small water carafe's I discovered at West Elm. They are 21 oz. - www.westelm.com/products/essential-glassware-carafes-e931/?pkey=e|carafe|4|best|0|1|24||1&cm_src=Quickbuy
Fill the carafe half full with ice, then add in this order:
1 oz. Gin
1 oz. Vodka
1 oz. Tequila
1 oz. White Rum
1 oz. Blue Curaçao
4 oz. Lemon Sour
4 oz. 7-Up Soda
Add additional ice to fill glass, garnish with lemon slice, colored cherry and paper umbrella - enjoy!
Blue Hawaiian - This is a nice, fruity cocktail for the summer, served in a large, brandy snifter glass. I found these Rue glasses at Crate & Barrel - www.crateandbarrel.com/rue-specialty-glass/s674533
Fill glass with ice, then add
3 oz. White Rum
3 oz. Blue Curaçao
2 oz. Lemon Sour
6 oz. Pineapple Juice
Stir to combine, garnish with a pineapple flag, colored cherry and paper umbrella - enjoy!