RECIPE: Easter Trix Krispies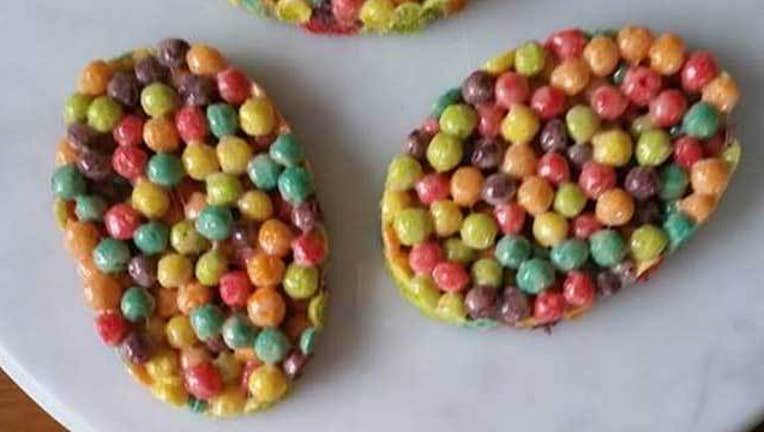 article
These treats are good any time of year, yet I created this idea for Spring/Easter. The copper egg cookie cutter is a custom size – 5?, available at www.CopperGifts.com. I use vanilla-bean paste in this recipe because it adds little flecks of vanilla beans throughout, yet you can easily use vanilla extract – totally fine.
1 box Trix cereal
1.5 – 10 oz. bags Fun-Mallows
1 stick, unsalted butter
1 tbsp. vanilla bean paste
Prep a half-sheet pan by spraying it with Bak-klene.
Melt butter and marshmallows in a large pot over medium heat, until mixture marshmallows have broken down. Turn heat off, add vanilla bean paste and Trix cereal. Stir mixture until it is completely mixed up and there are no clumps of marshmallow goo.
Turn mixture into prepared half-sheet pan, and spray your hands with the non-stick spray. Press mixture firmly into pan and allow to sit for two hours. Using the egg-shaped cutter, cut out egg shapes and place on tray – serve and enjoy! These might be delicious drizzled with white chocolate….