Jalapeno-bacon deviled eggs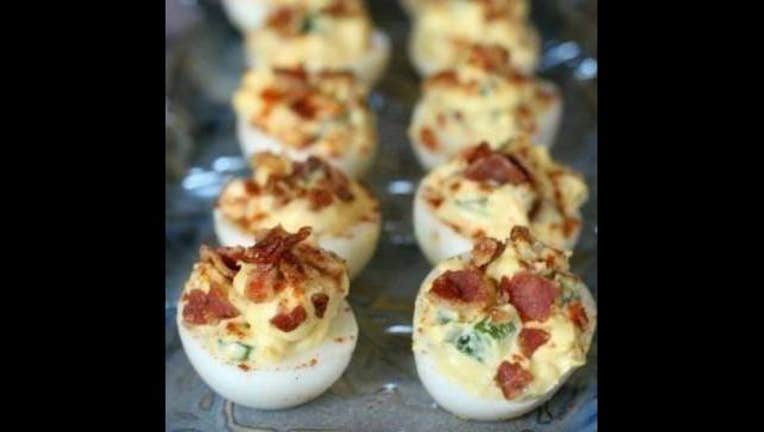 article
Wanted to share some of my go-to appetizers for the summer whenever I'm throwing a party. The Jalapeno-Bacon Deviled Eggs can be spiced up with a thin slice of jalapeno or only seeding one of the peppers. For a quick tip, purchase the hard-boiled eggs at your local grocery store so save on time. The Caprese Bites might seem a little futzy, yet well worth the effort - remember to use a take-n-bake loaf so the bites don't get too crunchy.
Jalapeno-Bacon Deviled Eggs
Ingredients
A dozen hard boiled eggs
1 c. mayonnaise
1/2 tbsp. minced garlic
1.5 tsp. white vinegar
3/4 tsp. ground mustard
1 tsp. sugar
2 jalapeno peppers, seeded and chopped
6 slices of thick-cut bacon, cooked crisp and crumbled
smoked paprika
thin jalapeno slices for garnish if desired
Instructions
Half the eggs and remove the yolks, placing into a bowl. Add vinegar to the bowl with the yolks and mash them. Add mayonnaise, garlic, mustard and sugar stirring again with a fork until combined and little to no lumps. Add the chopped jalapeno peppers and stir well. Place filling into a piping bag, cut the tip off and pipe the mixture into the wells of the eggs - dividing evenly. Sprinkle with smoked paprika and crumbled bacon and garnish with a jalapeno slice of desired. Enjoy!
Baked Caprese Bites
Ingredients
2 take-n-bake French baguette loaf - unbaked
8 plum tomatoes, sliced 1/2" thick
1 16 oz. package fresh, pre-sliced mozzarella
1/3 c. basil, chiffonade
olive oil
salt and pepper
Instructions
Preheat oven to 450. Slice baguette on the diagonal in 1" (roughly) thick slices, arranging them on a half sheet pan. Brush with olive oil and sprinkle with salt. Place in oven and bake for 5-7 minutes, until turning brown. Remove from oven and place tomato slices on top of the toasted bread, dividing evenly. Sprinkle tomato slices with salt and pepper. Top tomato slices with the fresh mozzarella and sprinkle with salt. Place back into the oven and bake for five more minutes. Remove from the oven and top slices with basil chiffonade - serve and enjoy!