Clean & Lean holiday recipes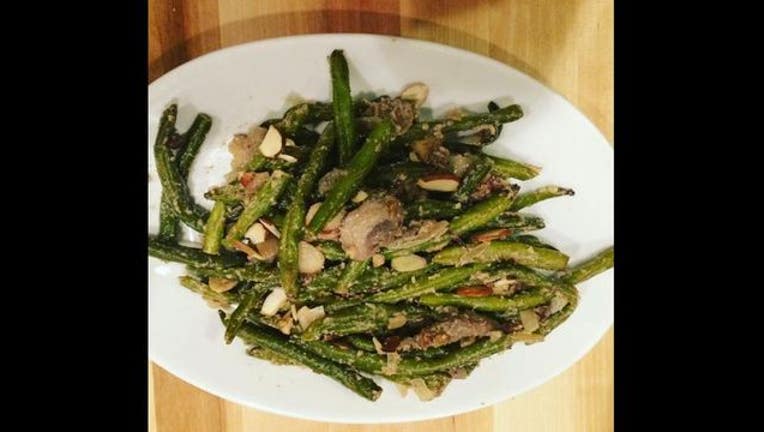 article
Holiday recipes that won't leave you looking like Santa

Gluten Free, Wheat Free, Dairy Free Green Bean Casserole

Ingredients

5 cups of green beans or five handfuls
1 Tbs Nutritional yeast
1/3 cup cashews ¾ cup water to make the paste
½ large onion
3 cloves of garlic
1 tsp Himalayan sea salt
1.5 TBS balsamic vinegar
¼ tsp black pepper
8 oz. of your favorite mushrooms
¼ cup slivered almonds

Directions

A little coconut oil or coconut spray to prepare your frying pan, start heating the frying pan about 2 mins before adding the onions and garlic. Preheat the oven to 420 degrees. This will bake for about 30 mins. I like to check mine at 25 just to make sure it's doing OK.

Spray frying pan and 8x13 baking dish and set aside
Put your green beans in the prepared baking dish.
Puree cashews, water and lemon in your blender or food processor and set aside. The longer you blend the smoother it will be, but you might have some tiny nut flakes or chunks and that's OK, you won't see them after it's baked so don't fret.

Chop onions and garlic and them to the frying pan with the mushrooms. Let them cook for about 5 mins and add the liquids. Add nutritional yeast and salt and pepper.

Add the slivered almonds right before you put the dish in the oven and mix them so that are covered in sauce.

This dish will cook for about 30 mins. I like the top of the dish to be little brown or crispy but not the entire dish or it will taste burnt.

Sweet Potato and Bacon Casserole

Ingredients

2 large sweet potatoes
1/3 cup pure maple syrup
1.5 TBLS cinnamon
½ tsp Himalayan sea salt
4 strips of bacon
¼ cup walnuts
¼ cup dried cranberries

Directions

Prepare an 8x 13 baking dish with coconut oil or coconut spray and set aside.

Prepare a cookie sheet with parchment paper to bake the bacon in the oven on.

Preheat the over to 400

Even though I only need four strips of bacon I make all of it because bacon will sit nicely in your fridge for a few days, or you can make yourself a BLT for lunch with the extra. Point is, never waste bacon, it's a very bad habit because bacon tastes good.

Two Sweet Potato's cut into cubes- Its easiest for me to cut the sweet potato's before I cook them. If I cut them after I cook them, I end up making them all mushy. Try to make them close to the same size so they cook evenly, but don't spend too much time worrying about it. As long as you don't have a ¼ of a potato and the rest are tiny little chunks, you'll be fine. You get the idea. Close to the same size, but not perfect. Perfect cooking is super lame.

I never have enough room on my cutting board for all of the sweet potatoes so I put the cut potatoes in the baking dish as I go.

Once all of the potatoes are in the dish and the oven is heated, you'll put the naked potatoes in the oven for about 25 mins. You don't want them to be completely done, just enough that when you add the syrup on top it won't be in there long enough to burn.

While the potatoes and bacon are baking, mix together the maple syrup, cinnamon and salt in a bowl and set aside.

Add the liquid mixture, the bacon, walnuts and crasons after the 25 mins and bake for another 20 mins or until you can put a fork effortlessly through the sweet potatoes.
Clean & Lean Grain Free, Dairy Free Crock Pot Stuffing

This is a Clean and Lean original This was one of my favorite Thanksgiving recipes that I developed. It's yummy and it's super easy.

Ingredients

3 cups low sodium, organic chicken broth
1 cup wild rice
1 cup quinoa (rinsed)
3 TBLS extra virgin olive oil
1 package of sliced mushrooms
1 large onion, chopped
2 large carrots
4 celery ribs with leaves
4 cloves garlic, chopped
1 cup finely cut chives
2 bay leaves
1 tsp poultry seasoning
3 tsp sea salt
½ tsp black pepper

Directions

Throw all of this in a crock pot and either cook it on high for a three hours, or on low for four or more. I let mine cook on low overnight for eight hours and it was perfect for me, but I like my stuffing moist. This is a stuffing that you can cook ahead of time because it reheats well.

Cooking note: This is a very moist stuffing, it's not dry at all. If you prefer a more dry stuffing start by leaving out a half cup of chicken broth and a TBS of the oil.
Cooking note: I love the flavor of this stuffing, it's my absolute favorite, but my husband prefers it with more salt. You may need to add salt depending on your personal preference. ©

Creamy Coconut and Fruit Ambrosia

Ingredients

Two 14 oz can's of coconut cream
Cinnamon – 4 Tsp
Real vanilla extract – 1 tsp
Pure Maple Syrup 2 TBLS
Himalayan sea salt (optional)
One orange for zesting
One small box of blueberries
One small box of raspberries
One small box of strawberries  (cut into quarters)

Directions

You need to store the coconut cream in it's can in the fridge over night before using. The cream will rise to the top just like milk, and you'll want to make sure you discard the watery part, or use it for something else. You don't want it in your cream base because it will make it runny. When you take it out of the fridge, open it from the side that was facing the bottom, not the top. Discard the water and put the creamiest part in a bowl to mix.

Coconut cream will not come to a stiff peak like cow's cream so don't be discouraged when you don't get the same affect. The stiffness of the coconut cream comes from being cold so you'll need to store this in the fridge until you're ready to use it. You can pre-make this dessert, and store them in the fridge, just don't leave it out or it will get runny.

You can really use any mixture of berries you like. I enjoy a variety in color so having at least one darker color is fun. You can also use the orange you're zesting with as long as you cut up the pieces nice and small, but I prefer just a mixture of berries. If you use black berries instead of strawberries, you won't need to do any cutting which makes the processes a little easier. If you use strawberries, you need to cut them up into small chunks a little bigger than the raspberries.

Add, cinnamon and vanilla to the cream and beat on high for three minutes. Add the sea salt if you choose at this time too.

I like putting this in a red wine glass with about half of the glass filled with cream on the bottom and the ¼ with a mixture of the berries.

Wash your orange before you put a little orange zest on top each of the desserts before you serve them. It will add a little kick and some fun color for presentation.

Serve cold.
 
Clean & Lean Founder Carisa Rasmussen