Zimmer talks free agents, kickers at NFL Combine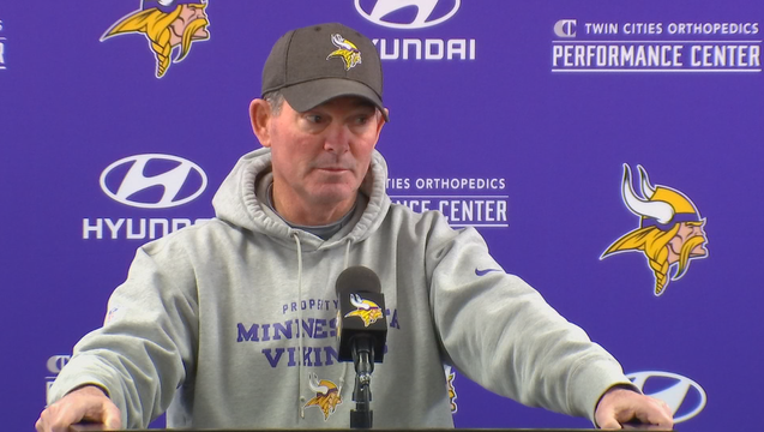 MINNEAPOLIS (FOX 9) - Mike Zimmer knows the NFL is a business, and the Vikings' head coach addressed as much at the NFL Combine on Thursday.
He knows several of his players are due to become free agents, and two of the biggest names are on the defensive front seven. It's a very real possibility that between defensive tackle Sheldon Richardson and linebacker Anthony Barr, one or both may not be wearing Viking jerseys when the 2019 season starts.
Barr made $12.3 million in the heart of the Vikings defense last season, which included missing four games due to injury. Staying healthy has been a problem throughout Barr's career. He finished 2018 with 55 tackles, three sacks, eight tackles for a loss and four quarterback hits. He also forced one fumble.
Richardson joined the Vikings defensive line on a 1-year, $8 million deal. He missed one game due to injury and finished with 49 tackles, six tackles for a loss and 16 hits on the quarterback. He also had four sacks.
Zimmer wants them both back, but knows that may not be financially possible. Barr was his first draft choice.
"We would love to have them both back. The question is where's the market going to go? Can we afford them? If we can afford them, then we're going to bring them back," Zimmer said. "If we can't afford them, then we're going to have to move on unfortunately."
The two are among 19 free agents the Vikings have to make decisions on this offseason.
Zimmer also offered an interesting possibility on Thursday. He's considering hiring a kicking coach. The Vikings have had their fair share of kicking issues in his five seasons. Blair Walsh cost the Vikings a home playoff win over Seattle on a subzero afternoon, and was cut nine games into his fifth season with Minnesota.
The Vikings drafted Daniel Carlson last season to take over kicking duties, and it was a disaster. He was released after missing three field goals, two in overtime, in the Vikings' Week 2 tie at Green Bay. A win there would've put Minnesota in the NFC Playoffs. Instead, Zimmer's squad was left on the outside looking in for the third time in his five seasons.
To add insult to injury, Carlson was signed by the Oakland Raiders and missed just one kick the rest of the season. The Vikings brought in Dan Bailey, one of the most accurate kickers in NFL history, to stabilize the kicking situation. Even he wasn't perfect. So will the Vikings bring Bailey back, sign a free agent or draft another kicker? We don't know yet. But Zimmer might hire a coach solely to work with kickers.
"I've thought about that an awful lot with the kicking situation we've had for the five years that I've been there," Zimmer said. "Everybody's got coaches now, so I've been thinking a lot about trying to get someone, a true kicker's coach where that's all he really does."
Unless that happens, new special teams coordinator Marwan Maalouf will be tasked with fixing one of the most inconsistent phases of the Vikings.
Maalouf said last week "all things are on the table" and he's looking for someone who is a football player first, and happens to be a kicker. It's such a mental part of football that he stressed not over-coaching something that seems as simple as kicking a football through the uprights.
"You don't want to over-coach. You want to know when to back off, and when to approach him and maybe mention one or two things about his footwork or his technique, what his aiming points are and what he's thinking about prior to the kick," Maalouf said. "A lot of things with football is muscle memory. You don't want guys thinking, you want him to go react, be ready, and do their job."
One thing Zimmer made clear on Thursday: He expects an improved and more consistent offense in Year 2 under Kirk Cousins. They have a permanent offensive coordinator in Kevin Stefanski, and advisor, mentor and Super Bowl champion in Gary Kubiak and a full year of Cousins in the system.
Cousins passed for nearly 4,300 yards and 30 touchdowns in his first season with the Vikings, but had some of his worst games at the most pivotal points in the season.
Zimmer expects big improvements the second season for the $84 million quarterback.
"I think he had a good year. I think because he signed a big contract, everybody is on his rear end about this and we didn't' win enough games. Same with me I guess. The big thing is every free agent I've ever had through my 25 years of coaching, they've always played better the second year," Zimmer said.
If the Vikings can get more consistent play from Cousins and the offense, they may not have to rely on a kicker to win games.