Vikings: Za'Darius Smith says he finished 2022 slow due to injury, played for bonus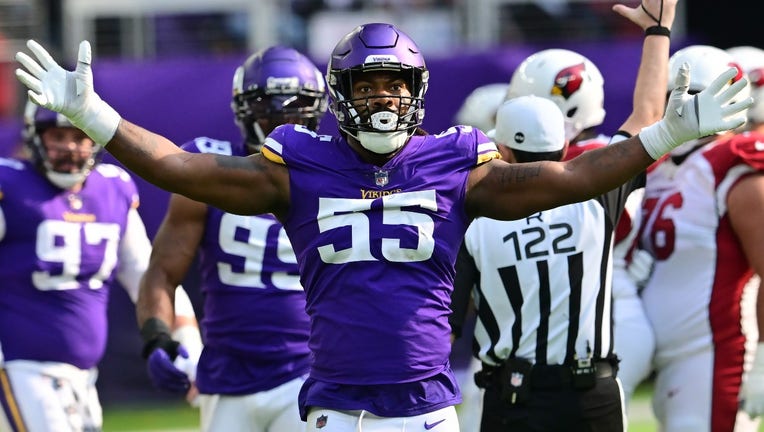 article
MINNEAPOLIS (FOX 9) - Za'Darius Smith is now with the Cleveland Browns after one year with the Minnesota Vikings, and earlier this week explained his slow finish to the 2022 season.
The Vikings signed Smith to pair with Danielle Hunter and become one of the NFL's dominant edge rushing duos. It got off to a great start, with 9.5 sacks in his first nine games, including three against the Arizona Cardinals. But Smith had just a half sack over his last eight games as the Vikings were handed an early playoff exit.
Smith told reporters at organized team activities that because of how his contract was laid out, he had to play through injuries to earn guaranteed money. He dealt with a knee injury over the back half of last season, and signed an incentive-laden deal to come to the Vikings from Green Bay after playing just one game in 2021 due to a back injury that required surgery.
"For one, it wasn't set up right. Going through Green Bay my last year, I had the injury and a lot of teams started to say this and that about Z, but it wasn't about that. I'm always a team guy. You can call any player from any facility that I've been in and ask them about who Z really is," Smith told NFL.com. "But a lot of people make stories up and it just didn't work out. I hated that. Wish I could have stayed and been a Smith Bro with Preston, but just happy to be here now, man, and get a new fresh start and continue my career here (in Green Bay)."
"It was the guaranteed part. The first year was only guaranteed. So, I mean, now I'm basically in the same situation, but it's OK now, because I can get a chance to go in the free agency next year," Smith added. "A lot of people didn't know, in my contract, I had it to where I had to play every game to get my bonus. So certain situations, coaches were telling me give it all you can and then we'll just rest you from there. So I wasn't as effective as I was at the beginning of the season, but I'm all healthy now. Ready to go."
Smith is now teammates with Myles Garrett in Cleveland, with the same goals he had as being teammates with Hunter.
The Vikings recently traded Smith to the Browns for fifth round picks in 2024 and 2025. The writing was on the wall for Smith's time with Minnesota after he put his Twin Cities home up for sale, then sent out a social media message to fans that felt like a goodbye. He reportedly asked for his release from the Vikings to test free agency, which was not granted, and eventually led to the trade.
Smith's comments also make it very clear he plans to be in Cleveland one season and then test free agency, much like he did with the Vikings.