Vikings: What will Minnesota do with the No. 23 pick in the NFL Draft?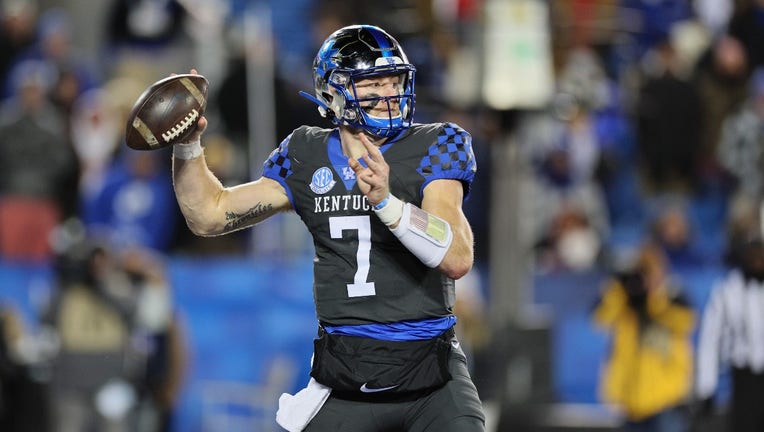 article
MINNEAPOLIS (FOX 9) - The NFL Draft is less than a month away, and the mocks are all over the map with what the Minnesota Vikings could do.
After going 13-5 and winning a division title in Kevin O'Connell's first season as a head coach, the Vikings have the No. 23 overall pick. It's a safe guess that the Vikings won't stay there. Just look at Kwesi Adofo-Mensah's first move in his first draft last year. He moved back to the last pick of the first round, trading within the NFC North, to take Lewis Cine.
This year, it feels like pretty much anything is on the table at No. 23. The Vikings have parted with Eric Kendricks, Patrick Peterson, Dalvin Tomlinson, Cam Dantzler, Duke Shelley and Adam Thielen. They've brought in Marcus Davenport, Dean Lowry, Byron Murphy and Troy Reeder on defense. They've added Josh Oliver and Brandon Powell on offense, and are bringing back Harrison Smith, Alexander Mattison, Garrett Bradbury, Jordan Hicks and Greg Joseph, among others.
With several different options available, here's a look at some of the names linked to the Vikings:
WILL LEVIS (KENTUCKY QB)
If the Vikings' front office wants a quarterback after Kirk Cousins, they're going to have to move up in the first round to do so. Will Levis is the best option not named C.J. Stroud, Bryce Young or Anthony Richardson. Reports emerged over the weekend that Cousins wanted a three-year deal with the Vikings, but Adofo-Mensah and company didn't want that long-term of a commitment.
Levis started 24 games over two seasons for Kentucky, throwing for more than 4,200 yards, 43 touchdowns and 10 interceptions last season. If the Vikings make a move for a quarterback after Cousins, Levis is the likely candidate. But it's unlikely he'll be there for the taking at 23.
DEVON WITHERSPOON (ILLINOIS DB)
If the Vikings want to bolster their secondary under Brian Flores and make a splash, look to Illinois defensive back Devon Witherspoon. But again, they'll have to move up to get him. Widely considered one of the top corners in the draft, Witherspoon is likely a top-10 pick.
The Vikings signed Byron Murphy in free agency, but have Andrew Booth Jr. and Akayleb Evans both coming back from injuries, as is Cine. Witherspoon was the Big Ten Defensive Player of the Year after three interceptions, 17 passes defended and 41 tackles in 12 starts.
JACKSON SMITH-NJIGBA (OHIO STATE WR)
With Adam Thielen being released and heading to Carolina in free agency, the Vikings might be looking for a No. 2 receiver to complement Justin Jefferson. You could argue KJ Osborn is the favorite there, but depth at the position never hurts.
Enter Jackson Smith Njigba of Ohio State. He had just five catches last year for the Buckeyes because of a hamstring issue, but had 95 catches for 1,606 yards two years ago. He's widely considered among the top receivers in the draft, and will be a playmaker.
BRYAN BRESEE (CLEMSON DL)
The Vikings have Harrison Phillips, Dean Lowry, Danielle Hunter and possibly Za'Darius Smith back on the defensive line. But they might want some more beef up front in Flores' defense.
Bryan Bresee combines size with athleticism at 6-5 and nearly 300 pounds. He ran 4.86 40-yard dash at the NFL Combine, and had a 29-inch vertical. In 10 games last season, he had 15.5 tackles, 5.5 tackles for loss, 3.5 sacks and two pass break-ups.
JOEY PORTER JR. (PENN STATE LB)
The name should sound familiar, Joey Porter Jr. is the son of former Pittsburgh Steelers star Joey Porter. His son was First Team All-Big Ten this past season at Penn State with 27 tackles and 11 pass break-ups in 10 starts. He had 51 tackles, one interception and four pass break-ups in 13 starts two seasons ago.
The Vikings might be looking for a future linebacker with Eric Kendricks gone, Jordan Hicks returning short-term and Brian Asamoah back at linebacker.
We'll see how much dealing Adofo-Mensah is up for on April 27, when the Vikings have decisions to make.