Vikings run over Raiders in 34-14 victory at U.S. Bank Stadium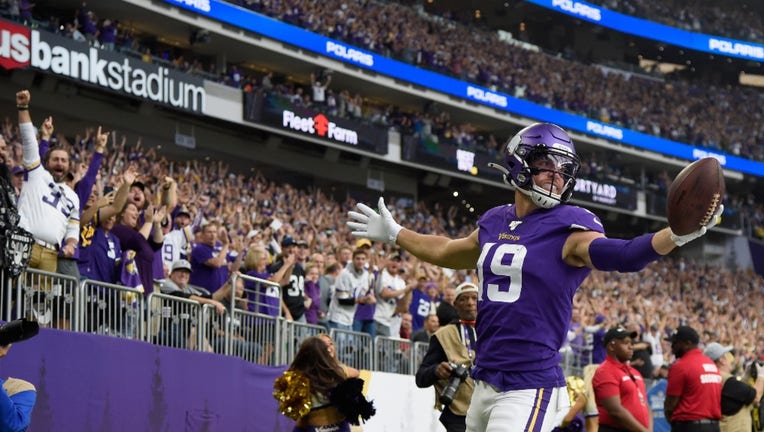 article
MINNEAPOLIS - Minnesota Vikings practice squad quarterback Jake Browning joked with starter Kirk Cousins that Sunday's game against the Oakland Raiders was over before the offense took the field.
Members of the 1969 Vikings squad that went to the Super Bowl were in town and recognized during a halftime ceremony. Add to it that 96-year-old World War II veteran Pete DuPre did the National Anthem at U.S. Bank Stadium with a harmonica. It had a capacity crowd already on its feet roaring and ready for football.
"Can't say enough about that National Anthem. I thought that was outstanding. One of the better national anthems I've ever been a part of to have a 96-year-old World War II veteran play the harmonica," Cousins said. "As Jake Browning said to me, he said, 'When I saw that national anthem, it was game over. We had won.' I felt pretty good too."
The Vikings used the pomp and circumstance to their full advantage, running to a season-high 213 rushing yards and three touchdowns, and throwing for another in a dominating 34-14 win over the Raiders. It's the Vikings' 500th win in franchise history.
Dalvin Cook had 143 total yards, 110 on the ground, and a touchdown. Cook averaged 6.9 yards per carry in the victory. It's his third straight 100-yard rushing game to open the season, and he's the first Viking to do so in franchise history. He leads the NFL in rushing through three games with 375 yards, which is second in franchise history behind Adrian Peterson's 392 in 2010.
Cook is also just the fifth player in NFL history to have at least 110 rushing yards and a touchdown in three straight games. The other four, Jim Brown, Curtis Martin, O.J. Simpson and Emmitt Smith, are all in the Pro Football Hall of Fame.
"Not surprised at all. We get to see him, he's a special guy on the field and off the field. He's such a great teammate, people don't get to really see that. He's just a special guy that busts his tail for us and this football team," said Vikings receiver Adam Thielen, who had three catches for 55 yards, a touchdown and a rushing touchdown in the win.
Alexander Mattison added 12 carries for 58 yards and a score, the first of his NFL career.
Cousins' only passing touchdown of the day came on the game's first possession. After tripping over Garrett Bradbury for a 4-yard loss on the game's first play, a defensive holding penalty kept the Vikings on the field. Cousins hit Irv Smith Jr. for a 20-yard gain before rolling out and finding an open Thielen for a 35-yard touchdown and early 7-0 lead.
It was exactly what Cousins and the Vikings needed after getting behind 21-0 against the Packers last week. Cousins finished 15-of-21 for 174 yards and a 112 rating. He didn't turn the ball over after throwing two interceptions last week.
"We take pride in coming out of the gates quickly. For us to be a good football team, hopefully that's part of our identity week in and week out, that we can come out right away and put pressure on our opponent," Cousins said.
The Vikings out-gained Oakland 140-17 in the first quarter, and got their second touchdown after the Raiders were flagged for roughing Cousins and for a face mask on Stefon Diggs. Cook, after being stood up at the goal line, stuck the football out across the goal line for a 1-yard touchdown and 14-0 lead.
Then the defense took its turn. Harrison Smith picked off a pass from Derek Carr, flustered under pressure, giving the Vikings the ball at the Oakland 30-yard line. Thielen took a sweep play for a 1-yard score, and the Vikings had control with a 21-0 lead in the second quarter.
The Raiders' only score while the game was close came on a flea-flicker from Carr to Josh Jacobs, back to Carr and down the field 29 yards to J.J. Nelson to get Oakland within 21-7.
With Mackensie Alexander out with a dislocated elbow and Anthony Barr nursing an injured groin, Eric Wilson sacked Carr twice, and Everson Griffen and Danielle Hunter added sacks. Carr finished 27-of-34 passing for 242 yards and two touchdowns, one interception and a 103.7 rating. He was also just 3-of-11 on third-down conversions. Most of his numbers came wtih the game out of reach.
Other than six penalties, it was a complete team win for the Vikings.
"This team has got a lot of heart. They were pretty focused all week and pretty focused in the meetings last night. They seemed really focused in the locker room today," Vikings coach Mike Zimmer said. "We came out there and played with a lot of effort. When you do that and you make plays, good things usually happen when you play with great effort."
The Vikings had 387 total yards and 23 first downs in the win, largely predicated by success in the run game. They averaged 5.9 yards per carry.
Mattison might have had the flashiest touchdown of the day, hurdling an Oakland defender for a 10-yard touchdown to give the Vikings a 28-7 lead in the third quarter.
He channeled his high school track days on the play.
"I ran hurdles and did long jump in high school so it's something natural. I got it in my back pocket and just keep it there until it's time to bring it out," Mattison said.
It was the quintessential win for the Vikings: Run the ball effectively, play mostly mistake-free and let the defense dominate.
"Any time you run the ball the way we did and our defense plays the way they did, you're going to be in a lot of football games and have a chance to do something and be pretty dangerous," Cousins said.
To make the victory full circle, Dan Bailey hit field goals from 50 yards and 24 yards out to give the Vikings a 34-7 lead in the fourth quarter. Former Vikings kicker Daniel Carlson, cut after Week 2 last season, had a field goal from 51 yards out clank off the right upright.
The Vikings take their 2-1 record to Soldier Field next Sunday in a pivotal road NFC North match-up against the Chicago Bears.