Timberwolves star Anthony Edwards fined following 'chair swinging' incident after playoff loss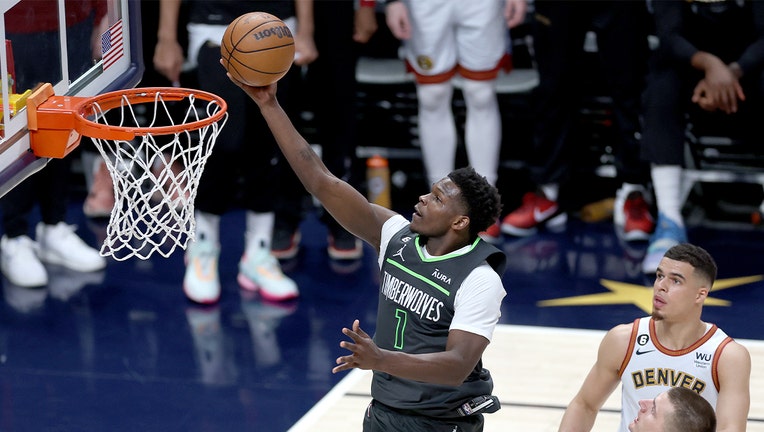 article
(FOX 9) - After allegedly swinging a chair in frustration following the Minnesota Timberwolves' loss to the Denver Nuggets in the first round of the playoffs last season, Anthony Edwards has been issued a fine by the NBA.
On Wednesday, NBA Executive Vice President and Head of Basketball Operations Joe Dumars announced Edwards had been fined $50,000 for recklessly swinging a chair in frustration that struck two bystanders as he exited the court at the conclusion of the Timberwolves' playoff game against the Denver Nuggets on April 25, at Ball Arena.
In accordance with the collective bargaining agreement, the league's review, "was deferred until after the criminal investigation into the player's conduct concluded with charges dismissed last month."
Following the incident, police records show Edwards was cited with third-degree assault following the report that, "Edwards was walking from the court to the locker room at the conclusion of the game, he swung a folding chair and struck two women who were working at the time. Both women were injured, and at the time it was reported that the injuries were not serious."
However, numerous fans and pundits were quick to note it appeared as if he was moving the chair out of his route to the locker room instead of "swinging" it in any specific direction. 
In a brief statement, the Timberwolves said they were looking into the incident: "We are aware of the alleged incident regarding Anthony Edwards following Game 5 in Denver and are in the process of gathering more information. We have no further comment at this moment."
Earlier this summer, Edwards signed a five-year max extension worth up to $260 million to stay with the Timberwolves. He's currently playing with the U.S. Men's National Team in the FIBA World Cup.