Timberwolves season slips away in 112-109 loss to Nuggets, 4-1 series loss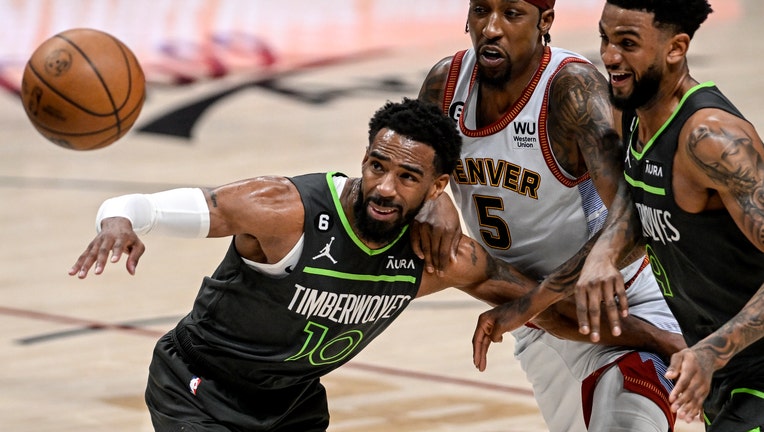 article
MINNEAPOLIS (FOX 9) - They didn't go down without a fight, but the Minnesota Timberwolves' season came to an end in a 112-109 loss to the Denver Nuggets Tuesday night in Game 5 of the Western Conference Playoffs.
Jamal Murray and Nikola Jokic made sure of it. Murray had 35 points, shooting 12-of-23 from the field and 5-of-9 from the perimeter, in 41 minutes. Jokic had another triple-double with 28 points, 17 rebounds and 12 assists. Aaron Gordon and Bruce Brown added 14 points each.
Anthony Edwards led the Timberwolves with 29 points, shooting 13-of-27 from the field. But he was 0-for-6 from the perimeter, including hitting the back rim on a 3-pointer at the buzzer that would've forced overtime for the second straight game. 
"I've got to play better, that's all it is. I was 0-for-6 from three, I stunk it up tonight," Edwards said.
The Timberwolves fought until the very end, but didn't have enough to get over the top and force a Game 6. A season of high expectations and a playoff run ended far too quickly.
"I think the defining characteristic of this team is that we've always played our best basketball when we were in desperation mode. It's not how you want to live, but it's a credit to us," Timberwolves coach Chris Finch said after the loss. "We had many points during the season to let go of the rope or give up on the moment, but we never did so I love that about our guys. They kept competing, but a more mature team doesn't find themselves in those situations as much and that's part of our growth."
Karl-Anthony Towns had 26 points, 11 rebounds and three assists before fouling out with 28.1 seconds to play. Rudy Gobert had 16 points, 15 rebounds, two assists and two steals before fouling out with 13.9 seconds to play.
"We fight. I think we just fight too far away. We always seem to be a team that fights really hard when our backs are against the wall and things are not going our way. We've got to take that fight and utilize it early on in games. We've just got to be a better team," Towns said.
Timberwolves' front office head Tim Connelly made the massive offseason move to acquire Gobert, giving up four players and four future first round picks to bring him to Minnesota. When the game mattered the most Tuesday, the 7-1 center was unable to corral a defensive rebound in the fourth quarter. The Timberwolves were out-rebounded 47-40 for the game, including 16-8 in offensive rebounds.
"We started with the right intent, mindset, purpose. We did exactly everything we really talked about, they just kicked our ass on the offensive glass," Finch said. "That was kind of the story of the game, and they got a couple big ones right in the guts when it mattered. We haven't been great on the glass all year, and it shows up when it matters most sometimes."
The Timberwolves also committed 14 turnovers, and were out-scored 36-25 at the free-throw line. That includes a 15-4 mark in the first half, after the Timberwolves built a 15-point lead in the first quarter.
For the second straight year, the Timberwolves' season ends in a first round playoff exit. The Timberwolves haven't won a playoff series since Kevin Garnett led them to the Western Conference Finals in 2004.