Timberwolves face elimination Sunday after 120-111 loss to Nuggets, 3-0 series deficit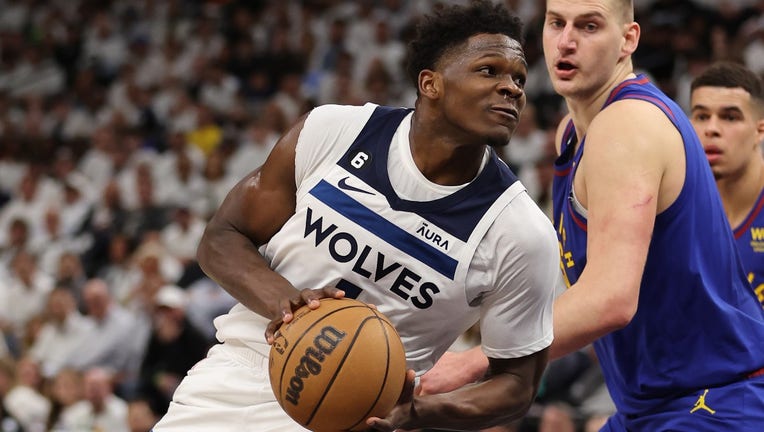 article
MINNEAPOLIS (FOX 9) - A season of high expectations and a deep run into the Western Conference Playoffs for the Minnesota Timberwolves is on the verge of coming to an end Sunday night.
The Timberwolves lost to the Denver Nuggets 120-111 in front of a packed house at Target Center to fall to 0-3 in the seven-game series. Minnesota needs a win Sunday night, or its season is over.
"Everything is on the line. We've got to come out and fight, simple as that. We'll look at it, put it back together and we've got to come out and fight," Timberwolves coach Chris Finch said after Friday's loss.
Anthony Edwards led the Timberwolves with 36 points, and added seven rebounds, five assists and three steals. After scoring a combined 21 points on 8-of-27 shooting in the first two games of the series, Karl-Anthony Towns had 27 points and seven rebounds. Rudy Gobert added 18 points, 10 rebounds and three assists before fouling out with 1:38 to play.
The Nuggets' depth was the difference Friday night. Michael Porter Jr. led Denver with 25 points after scoring 13 in the fourth quarter of the Game 2 victory. Nikola Jokic had a triple-double with 20 points, 11 rebounds and 12 assists. Jamal Murray had 18 points, six rebounds and nine assists as all five Nuggets' starters scored in double figures.
Denver's bench of Jeff Green, Bruce Brown and Christian Braun combined for 29 points. The Timberwolves' bench of Taurean Prince, Kyle Anderson, Austin Rivers and Jaylen Nowell combined for 10 points on 3-of-17 shooting.
"Our bench has got to contribute a little bit more because often times, those are the minutes that match-up. You can only run with your starters so much," Finch said.
The Nuggets shot 57 percent from the field, and 40 percent from the perimeter. They also out-rebounded Minnesota 40-32. The Timberwolves got as close as three points in the fourth quarter before Denver pulled away.
"I mean, just losing. Losing hurts. Doesn't matter if it's the playoffs or not, it hurts. Tonight just hurt a lot. Tough. Tough night," Towns said.
The Timberwolves are out of time to figure things out with a season that had high expectations going back to last October. They have to win Sunday, or the season is over. They brought in Gobert to pair with Towns to be a contender, then Towns missed more than 50 games with a calf injury. They've played without Jaden McDaniels and Naz Reid due to injuries, and haven't been able to figure things out.
"We've struggled with a consistent identity all year. Whether it's been two bigs or small lineup or Rudy only or whatever. We obviously aren't there yet," Finch said.