End of an era: Minnesota Wild buys out contracts of Zach Parise, Ryan Suter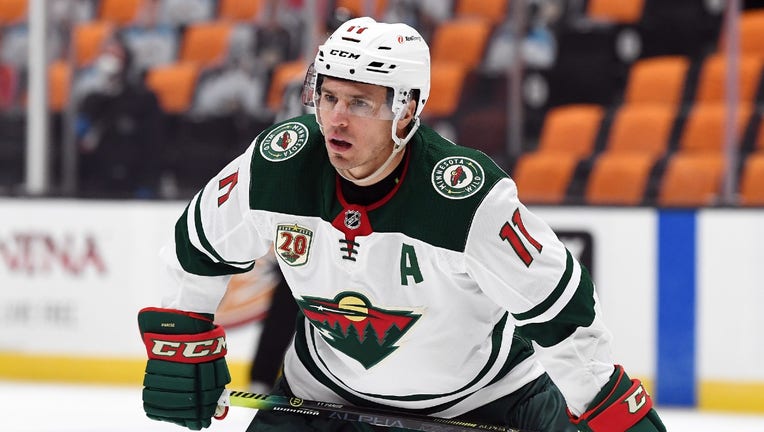 MINNEAPOLIS - Nine years ago on the Fourth of July, the Minnesota Wild took the local sports scene by storm, announcing the free agent signings of Zach Parise and Ryan Suter on identical 13-year, $98 million contracts.
That era officially came to an end on Tuesday, with the team announcing they will buy out the remaining four years on each of their contracts. Parise and Suter will not return to the team for the 2021-22 season, and they're unrestricted free agents.
The Wild made the Stanley Cup Playoffs eight times with Parise and Suter on the roster, but never made it past the Western Conference Semifinals. Xcel Energy Center will likely return to full fan capacity for the 2021-22 season, but two fan favorites won't be on the ice in Wild jerseys.
Tuesday afternoon, Wild General Manager Bill Guerin spoke at length about the team needing to move forward and constantly get better. That involved parting ways with Parise and Suter, both 36 years old. Tuesday morning, Guerin informed them both they were being bought out. He said the process started as long as six to eight months go.
"These are two guys that gave their heart and soul to this organization, but we have to make tough decisions, keep trying to turn the page and keep trying to get better and reach our ultimate long-term goal of winning a Stanley Cup," Guerin said. "A tough decision to make, but one I feel we needed to make."
The moves allow Guerin to protect two more players in the NHL Expansion Draft. They free up some salary cap space, and allow for some of the team's top young talent to get their chance to prove themselves on the ice. Guerin's current top priorities are bringing back Calder Trophy winner Kirill Kaprizov, and Kevin Fiala.
Parise, 36, played in 558 games over nine seasons with the Wild. He scored 199 goals and had 400 points, and had 34 points in 40 Stanley Cup Playoff games. He is the franchise leader in power-play goals, ranks second in game-winning goals and shots on goal and third in scoring and goals. Parise is also the franchise leader in scoring, goals, power-play goals and assists in the playoffs.
Parise spoke with Fox 9 Sports Director Jim Rich after getting the call from Guerin Tuesday morning.
"Yeah that's a little bit of a shocker. When I found out about Ryan, I was really surprised. I did not see that one coming. Same thing, Ryan played great hockey for this team. The guy is a top four defenseman, so he's going to land somewhere and be a huge part of another team," Parise said.
It was a tough season for Parise, who was taken off the power play most of the season and saw his playing time cut severely. He was benched for just the second time in his 16-year career after trying to get Marcus Foligno his first career hat trick near the end of regulation in a game against the Vegas Golden Knights. He turned the puck over, which led to a game-tying goal and the Golden Knights eventually won in overtime.
Parise was also a healthy scratch for the first three games of the Stanley Cup Playoffs against the Golden Knights. He played in the last four games of the series, only after teammate Marcus Johansson went down with a broken arm. After the team's Game 7 loss to Vegas, Parise called being a healthy scratch for the first three games "a sideshow."
Parise played in just 45 regular season games, having to spend time on the NHL's COVID-19 Protocol List. He finished the regular season with seven goals and 11 assists, both career-lows in a season of at least 40 games. He had two goals and an assist in four playoff games.
Suter, also 36, played in 656 games with the Wild over nine seasons and had 55 goals and 369 points in 656 games. He is the franchise leader in scoring, assists, power-play assists, plus/minus rating, shots on goal and time on ice among defensemen.
Minnesota went 354-237-74 (.588) and tied for eighth in the NHL in team points (782) in the nine seasons with Parise and Suter in Wild sweaters, advancing to the Stanley Cup Playoffs eight times. 
"These were no fun, I've been through it. I was bought out and these calls are not fun to make, but in this position in the chair I'm sitting in, you have to do difficult things. I can tell you this, I don't make these decisions lightly," Guerin said. "It's a tough conversation, I'll just leave it at that. They're both good, they're both professional and it's a tough day."
It's the latest in a series of moves by Guerin to in an attempt to turn the Wild into a Stanley Cup contender. Gone are Parise, Suter, Eric Staal, Jason Zucker, Nino Niederreiter, Devan Dubnyk, Mikael Granlund, Charlie Coyle and Mikko Koivu.
The roster now centers around Kaprizov and Fiala, captain Jared Spurgeon, Joel Eriksson Ek, Marcus Foligno, Ryan Hartman, Jordan Greenway, Matt Dumba and Jonas Brodin. The Wild is still in search of a top line center and other pieces. Tuesday's moves might not be seen as popular, but Guerin felt they were necessary to move forward.
"We are trying to win and we have to try to improve all the time. Sometimes it takes very difficult decisions to do that. It's not OK to be where we are right now," Guerin said. "We saw great signs this year, but we're not there yet. We have to continuously try to get better and try to build a Stanley Cup winning team."
After so much excitement nine years ago, it's the end of an era for Wild hockey. Guerin hopes it's the start of something bigger.