P.J. Fleck: Gophers WR Chris Autman-Bell 'week to week' with leg injury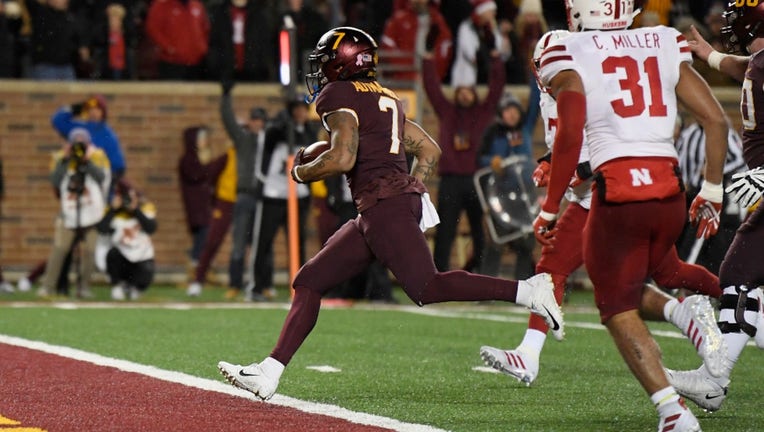 article
MINNEAPOLIS - University of Minnesota football players and their fans likely had their hearts drop last Thursday, watching leading wide receiver Chris Autman-Bell having to be helped by teammates and trainers to the locker room at Huntington Bank Stadium after suffering a leg injury during an individual drill.
The Gophers were suddenly without their leading receiver from last year, and the most experienced player at the position on the roster with the 2021 season-opener against No. 4-ranked Ohio State looming on Sept. 2. In the days since, the Gophers have been able to collect their breath. P.J. Fleck told KFAN Radio on Monday Autman-Bell is "week to week" and "It's not a long-term issue."
He said the same after the team practiced without him on Monday. Fleck won't rule him out against the Buckeyes, at least not yet.
"From earlier? Nothing has changed. He's week to week, not a long-term issue at all. He's doing great. I would probably say there's a legitimate chance," Fleck said.
Autman-Bell had 22 catches for 430 yards and one touchdown in 2020. In 33 career games with the Gophers, he has 78 catches for 1,250 yards and six touchdowns.
Without him Monday, the first-team receivers in a majority of team drills were Dylan Wright, Michael Brown-Stephens and Clay Geary. Brady Boyd also got reps, and the Gophers also got a catch on a deep ball from tight end Brevyn Spann-Ford.
It will be receiver by committee in 2020. The Gophers don't have the elite receiver in Rashod Bateman or Tyler Johnson that they've relied on the past two seasons. They have talent, but it's got to be proven in games.
"They're developing. Nothing has changed that way in the fact of we knew we'd have to be by committee. We knew that," Fleck said. "Chris is a big part of what we do, but he's not going to be the only receiver we have and everybody else has to be able to support him and be ready to go."
With Autman-Bell out, Tanner Morgan is trying to develop the same chemistry with the other options that are healthy. But it was tough to watch his teammate and friend go down in practice.
"Chris is incredibly positive every day, we're excited for him because aside from football, Chris is a friend. He's a brother, so whenever you see somebody go down on the field, it's challenging, it's tough," Morgan said. "But we're excited for Chris, his leadership has definitely been on display."
It was a struggle for Morgan and the other quarterbacks Monday as the defense dominated most of the afternoon. Boye Mafe, Esezi Otomewo and Nyles Pinckney all took their turns creating pressure in team drills. Terrell Smith and Coney Durr had pass break-ups in the secondary, and linebacker Jack Gibbens stood out for a third straight practice.
Fleck said fall camp has been among the most competitive he's seen for the offensive and defensive lines. They've had battles, and if one group doesn't respond, "you're going to get your butt kicked."
"We've had one practice where one side of the ball has completely dominated in 10-11 practices. Other than that it's gone back and forth, and that's what I want to be able to see," Fleck said.
One of the biggest developments in fall camp has come in special teams. At Monday's practice, kicker Matthew Tricket was 6-for-6 on field goals before missing three straight, and finished the day 10-of-14 on kicks ranging from 34 to 49 yards. Punter Mark Crawford had several kicks inside the 10-yard line in individual special teams drills.
While the Gophers continue to showcase depth across several positions leading up to Ohio State, it remains to be seen if Autman-Bell, their most talented and experienced receiver, will be healthy enough to play in about two weeks, in what will be arguably the toughest game of the season.