New-look Gophers hold first 2023 Spring Practice open to public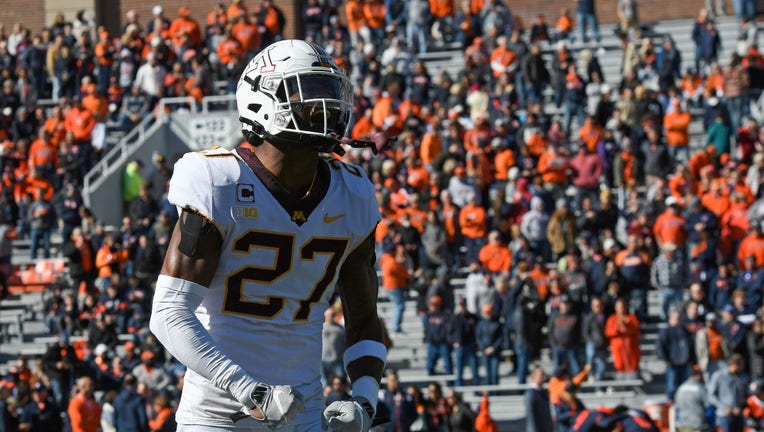 article
MINNEAPOLIS (FOX 9) - The pads were popping and the energy was palpable as the University of Minnesota football team had its first practice of the spring season open to the media and fans on Tuesday at Athletes Village.
It was the Gophers' fourth spring practice, and second in pads. The few hundred fans in attendance likely spent a lot of time looking at their roster sheets. Between players graduating, heading to the NFL and a dozen entering the transfer portal, the team will look a lot different in PJ Fleck's seventh season.
Veterans like Mo Ibrahim and Tanner Morgan are gone. Chris Autman-Bell is back, but isn't practicing as he works his way back from a knee injury last season against Colorado. Brevyn Spann-Ford didn't practice, leaving opportunities for the likes of Daniel Jackson, and transfer receivers Corey Crooms and Elijah Spencer. All had their moments Tuesday, including Athan Kaliakmanis hitting Spencer for a big gain down the sideline in a tight window.
One thing that is consistent? Fleck likes how hard his team is working.
"They work really hard, I'm really proud of how hard they're actually working. Whatever you put in front of this team, they knock it down," Fleck said after Tuesday's practice. "We've benefited off having a very veteran team the last few years, a lot of them are out right now and it's allowing our youth and inexperience to really develop. That's what I love about this football team, whatever you put in front of them, they just do."
For Fleck, the spring is about players putting themselves in the conversation for starting jobs. Their job is to win position battles in fall camp.
It's a new era at quarterback, with Kaliakmanis the likely starter after playing in 11 games as a redshirt freshman. He'll have a new offensive line, with John Michael Schmitz, Axel Ruschmeyer and Chuck Filiaga gone. The first team Monday included Nathan Boe at center, Quinn Carroll at right guard and Martes Lewis at right tackle. On the left side, it was Aeriontae Ersery and Tyler Cooper.
The backfield looks at lot different. Bryce Williams is the lone returner with experience. The Gophers added transfer Sean Tyler, freshman Darius Taylor, and will get pushed by Zach Evans and Jordan Nubin.
On the defensive line, it's Danny Striggow, Jalen Logan-Redding, Deven Eastern and Kyler Baugh leading the way. Cody Lindenberg leads the linebackers, and Tyler Nubin and Justin Walley lead the secondary. Fleck confirmed Tuesday that Ryan Stapp, who played 196 snaps last season and had 13 tackles and an interception, is no longer with the team.
Fleck likes what he sees from who has been on the field through four practices.
"Maybe one of the hardest-working teams we've had since we've been here. All I've told them is be their best. These practices are really impressive with how hard they work and how much better they're getting every single day. By no means are we ready to play football, and I'm glad we don't play football right now. We can really develop a ton of guys," Fleck said.
There's also been a handful of teachable moments. On Saturday, Fleck stopped practice after the defense tried to scoop and score on a fumble, rather than just fall on it. There have been penalties, and Fleck stopped practice Tuesday three times.
One was after Tyler Nubin gave a hard hit to Jackson, making a catch down the sideline.
"Anything program related, culture related, I want to make sure they understand that's not our standard," Fleck said.
The Gophers have one more practice open to the public on April 4 before the April 22 Spring Game at Huntington Bank Stadium.