Wild face elimination after 4-0 Game 5 loss to Stars, trail 3-2 in series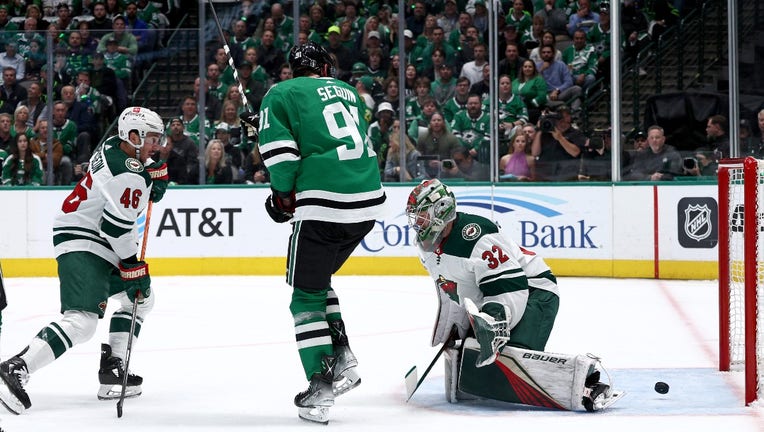 article
MINNEAPOLIS (FOX 9) - The Minnesota Wild heads home for Game 6 of the Stanley Cup Playoffs with its season on the line after a 4-0 loss to the Dallas Stars in Game 5 Tuesday night.
The Wild trails 3-2 in the series, and is staring at possibility of not getting to the second round of the playoffs for the seventh time in eight seasons. 
"This series isn't over. It's as simple as that," defenseman Matt Dumba said after the loss.
Their offense was non-existent in Tuesday's loss, and Marcus Foligno was once again the center of early controversy.
About two minutes into the game, Foligno pursued a hard hit on Radek Faksa, who contorted his body at the last second to corral the puck without closing his glove. Foligno was called for kneeing, which resulted in a five-minute major and an automatic game misconduct.
It probably didn't help matters that Foligno was vocal about the officiating after Game 4, when two of his penalties directly resulted in Dallas goals.
Eight seconds into that power play, Tyler Seguin scored to give the Stars a 1-0 lead at 2:22 of the first period. That was just the start of a busy night for the Wild in the penalty box.
"Major, I don't know. I don't agree with it, obviously. I'm keeping my lane and unfortunately we both hit in that leg area. I won't say it's a knee-on-knee. I hit him in the upper area. He's rotating out of the way. I don't move my leg at all," Foligno told reporters after the loss. "If you want to give me a penalty, for sure. But a five-minute and a game misconduct to throw us out of here, I just don't agree with that."
Wild coach Dean Evason was in agreement with his winger.
"It took some life out of us for sure with everything that's gone on and all the whining and stuff about everything. We disagree with it, we don't think he changed his path. He could've changed his path, and probably stepped in hard. If anything, their guy changed the path. We watched it several times, he does not move. Moose does not move his legs, nothing. He stays straight and he braces himself. It's incidental contact, two big men. If anything we thought their guy moved, and our guy did not," Evason said. "How do you ask a guy to change his game? What do you want him to do? He didn't change his path, do you want him to jump out of the way? I don't know what we tell him to do."
Jacob Middleton was called for cross-checking later in the period. The Stars capitalized as Jason Robertson scored a power play goal at the 11:04 mark to give Dallas a 2-0 lead.
The Stars made it 3-0 just 1:19 into the third period as Mason Marchment scored a rebound goal after an initial save on Seguin. Ty Dellandrea added an empty-net goal at 16:03 of the third period.
Lakeville native Jake Oettinger made 26 saves in net in the shutout for the Stars. More concerning for the Wild is the offensive absence of Kirill Kaprizov, who doesn't have an even-strength goal in the series, and doesn't have a point since late in the first period of Game 1, a stretch of more than 313 minutes of game time. That includes 15 straight periods, and a 12-minute stretch of overtime going back to Game 1.
Dallas scored two power-play goals Tuesday night and now has nine for the series. The Wild was 0-for-3 on the power play.
"We have to stay out of the box," Evason said.
The Wild need a win in Game 6 Friday night to force a Game 7 in Dallas.