Minnesota Wild drops exhibition game in Edmonton bubble to Colorado, 3-2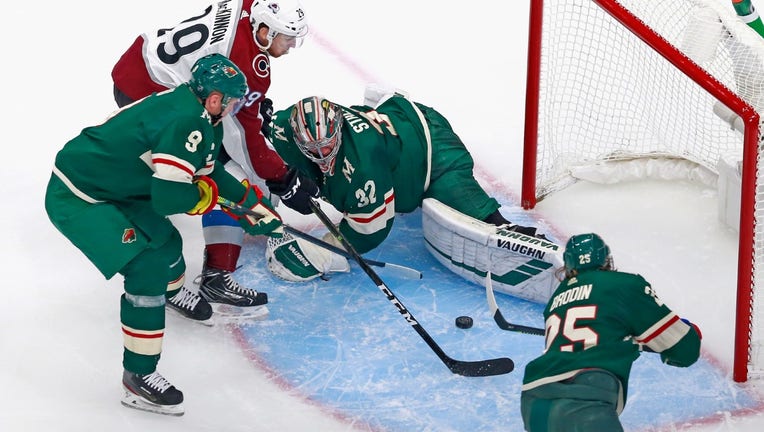 article
MINNEAPOLIS - It probably didn't feel like a normal game for a variety of reasons, but the Minnesota Wild got back on the ice against an opponent for the first time in more than four months on Wednesday.
The Wild faced the Colorado Avalanche in the team's lone exhibition game in the Edmonton bubble before things get real Sunday night in Game 1 against the Vancouver Canucks. The Wild lost the game 3-2, but the result wasn't significant. Perhaps it was fitting playing the Avalanche, a bitter rival, before the playoffs. It wasn't hard to find the intensity once the puck dropped.
"I think everyone knows the importance of this game and to really just bring that energy so we're ready come the qualifier," said defenseman Matt Dumba, who scored the Wild's first goal.
Head coach Dean Evason was happy with his team's play for the first time seeing an opponent since early March.
"We were real happy with the way that we played. Obviously there's areas that we could clean up. For the most part, we liked a lot of things about our game," Evason said.
Evason will have a decision to make on who will start in net against the Canucks Sunday night between Alex Stalock and Devan Dubnyk. Stalock got the start Wednesday, and allowed all three Colorado goals.
The first came after Stalock made an initial save in the first period, but Jonas Donskoi was there for a rebound on a wide open net. Colorado caught the Wild defense on its heels, and Nathan MacKinnon beat Stalock on a breakaway.
Gabriel Landeskog got the third goal against Stalock on a 5-on-3 advantage. Stalock made 14 saves on 17 shots in 30 minutes.
"I felt like I settled in as the game went on. There's some catch up obviously with four months off, and it took a little while to get adjusted," Stalock said. "It's a battle for the job night one, and I think if you ask me or Duby, obviously we want to both be in there. Either one of us will give the team a chance to win."
Devan Dubnyk came in midway through the second period and finished the game. He finished with 12 saves and a clean sheet.
Asked if Evason saw enough Wednesday to feel confident about who will start Game 1? "Maybe," he said with a smile. They'll make a decision on Stalock or Dubnyk by Saturday, and inform both players ahead of Game 1.
"We saw some real good things from both of them. Both of them had areas of the game that they had barrages, they played and held up extremely well," Evason said. "We like both their games and obviously we're going to have a very difficult decision and it's something we have to talk about for a couple of days."
The Wild's first goal came from Dumba on a 4-on-3 power play, one-timing an assist from Eric Staal that tied the game 1-1. Staal later chipped in a puck for a goal after a pass from Carson Soucy that tied the game 2-2.
The Wild's power play will need some work heading into Sunday night's game. The Wild went 1-for-8 on the man advantage Wednesday, managing just five shots on goal. The puck possession was there, but not a lot of scoring chances.
"More pucks have to go to the net. We thought our entries were real good, we thought our puck control was real good but we have to find opportunities to get pucks to the net," Evason said.
The exhibition was the start of a new normal for the Wild and the NHL. No fans in the stands to react to plays, no horns after goals and eerie silences on the ice. But there was hitting, there were skirmishes and there was plenty of chirping between the two benches.
After weeks at Training Camp, they're a few days away from meaningful hockey, playoff hockey.
"Right away it was a little bit different, but it was also fun to just compete again. Both teams were competitive, physical at times. Got the emotions into the game and that's why we all love this game," Staal said. "It was fun to compete again. When you're in the heat of it, we'll just play and compete and try to accumulate the wins."