Vikings beat Lions 37-35 to finish disappointing 2020 season 7-9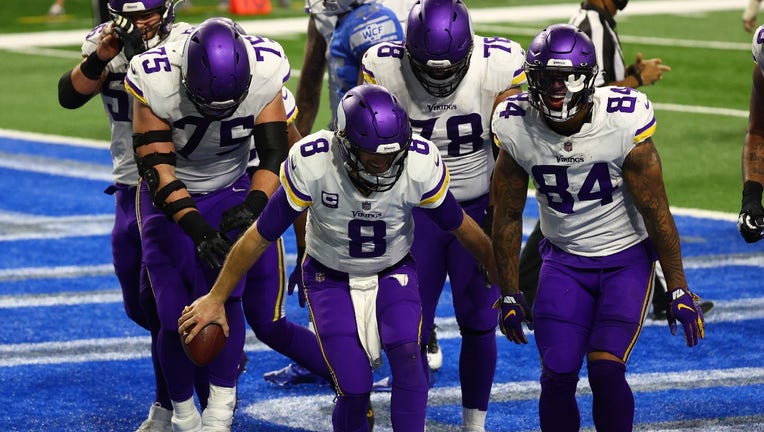 article
MINNEAPOLIS - The Minnesota Vikings won't be participating in the NFC Playoffs next weekend, but that didn't stop them from doing the most with what they had available in a 37-35 win over the Detroit Lions at Ford Field on Sunday to end the regular season.
For the second time in Mike Zimmer's seven seasons, the Vikings finish a 16-game season below .500 at 7-9. For the fourth time in his seven years, they won't be involved in the postseason. Sunday's win did end a three-game losing streak after fighting back from a 1-5 start to get to 6-6. It also means they'll have the No. 14 pick in the 2021 NFL Draft, after the results of Sunday's other games.
There's plenty of what-ifs to be discussed after the season fell well short of expectations. But as Zimmer put it after the game, they simply weren't good enough over a 16-game sample to earn a playoff spot.
"We've got a lot of work to do, I've got a lot of work to do and in saying all that, I'll say two things. We probably weren't good enough as a football team this year to be in the playoffs. But we missed a lot of guys. The guys that ended up playing, they battled like crazy and we still had opportunities to win a few more games," Zimmer said. "With the turnover that we had, the injuries that we had on defense, we just weren't good enough. We fought like crazy and 7-9 is not great, but through all the circumstances and everything that went on, maybe it's the best we could've done."
The two biggest bright spots in Sunday's win? Justin Jefferson and Kirk Cousins. Jefferson made nine catches for 133 yards and in the process, set a pair of records. He entered the day needing 47 yards to eclipse Randy Moss's 1,313 yards as a Vikings' rookie. He also had a chance at the Super Bowl era record of 1,377 set by Anquan Boldin in 2003.
Jefferson finishes the 2020 season with 88 catches for 1,400 yards and seven touchdowns. That's without starting until Week 3.
"Jefferson is a good player. I love the way he competes, he catches everything. He continually gets better and better. He's a great weapon to have and should be for many, many years," Zimmer said.
Jefferson, taken No. 22 overall in the 2020 NFL Draft with a pick the Vikings got from Buffalo in exchange for Stefon Diggs, averaged 15.9 yards per catch this season. That's through a virtual offseason, and without the luxury of a normal training camp and preseason.
"All of the people that doubted me at the beginning of the season, that didn't think I was going to have this type of season or didn't think that I was the player that I am, all of that was just built up on me. I just released the beast," Jefferson said. "I just went out there and just played my ball. Just was true to the process and just let my game play for itself."
Cousins finished Sunday's game 28-of-40 passing for 405 yards, three passing touchdowns and one rushing touchdown despite being sacked three times. He had a 127.6 rating, and finished the 2020 season with a career-high 35 touchdowns.
He also threw for 4,000 yards for the fifth time in six seasons. He said after that stats are great, but you're judged by wins and losses. The bottom line is he was the quarterback for a 7-9 team and will be watching the playoffs on the couch instead of playing in them.
"It's nice to have positive statistics but ultimately that's not really what it's about. You really want to win games and that's where my focus is, and will be going forward. Figuring out what are the little things you can do better to make sure those losses turn into wins," Cousins said. "That's always where my mind will go."
His touchdowns went to Alexander Mattison, Ameer Abdullah and Chad Beebe. They got more chances with Dalvin Cook out after his father's death earlier this week, and Kyle Rudolph's season ending with a toe injury. Without Cook, Mattison had 21 carries for 95 yards and a touchdown, and added three catches for 50 yards and another score.
Cousins connected with eight different receivers on Sunday as the Vikings piled up 508 total yards, got 31 first downs and averaged 6.9 yards per play.
Plenty of questions remain on defense, a unit that last week gave up 583 total yards and 52 points at New Orleans. The Vikings have been without Michael Pierce and Danielle Hunter all season. Anthony Barr, Eric Kendricks, Mike Hughes and Cameron Dantzler missed extended time, and the team cut Holton Hill. The defensive line didn't meet expectations, Anthony Harris underperformed and the secondary was limited all season.
Zimmer is known to be a defensive guru, but even he admits the unit's personnel was thin this season.
"It's frustrating that we had so many injuries, especially defensively. Guys opt out, and Hunter, Barr, Kendricks. A lot of times when you get injured players, it depends on who the injured players are. We had a lot of really good ones get hurt this year," Zimmer said.
Zimmer said player evaluations for the season start next week, and they'll turn the page to 2021.
The Vikings had 10 of their 16 games come down to either the final possession or finish with a margin of eight points or fewer. They went 5-5 in those 10, and had weird losses to the Falcons, Cowbys and at Tampa Bay. They had their chances, didn't make plays and it offers perspective for 2021.
"These wins and losses are one play and we've got to work and prepare and grind with that understanding," Cousins said.