Minnesota Vikings 2023 schedule: A game-by-game look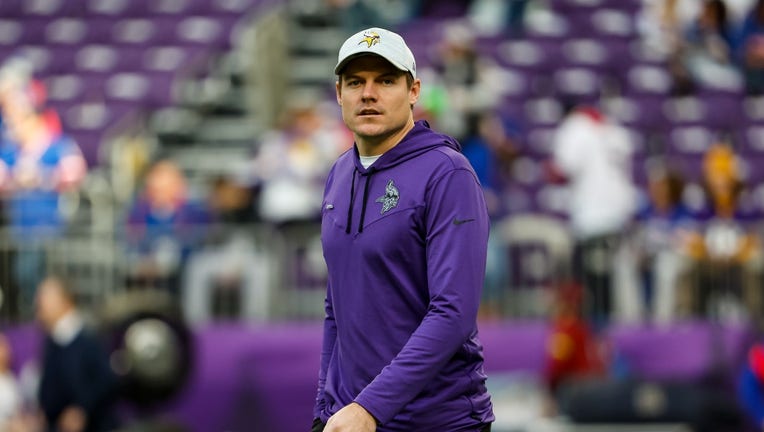 article
MINNEAPOLIS (FOX 9) - The 2023 regular season schedule is out for the Minnesota Vikings. It features five primetime games, two on Monday Night Football and at least eight on Fox 9.
They don't play on Thanksgiving, do play on Christmas Eve and also play on New Year's Eve. It's a tough slate for Kevin O'Connell in his second season with the Vikings, coming off 13 wins and an NFC North Division title.
Here's a game-by-game look at the 2023 schedule:
WEEK 1 – TAMPA BAY BUCCANEERS
The 2023 regular season opens on Sept. 10 at U.S. Bank Stadium against the Tampa Bay Buccaneers, who won't have Tom Brady at quarterback after he retired. A Vikings' defense led by Brian Flores will likely face Baker Mayfield. That's a Vikings' win. (1-0)
WEEK 2 – at Philadelphia Eagles (Monday Night Football)
It's not a Vikings season if they don't travel to Philadelphia for Monday Night Football. It didn't go well last year in a 24-7 loss. It really didn't go well in the 2019 NFC title game, a 38-7 loss. The Vikings have not handled a hostile Philadelphia environment well, and they'll probably struggle again this year. That's a loss. (1-1)
WEEK 3 – LOS ANGELES CHARGERS (FOX 9)
The Vikings return to U.S. Bank Stadium for Week 3 to host the Justin Herbert-led L.A. Chargers. Flores will do everything he can to keep Herbert on his back foot. That's a Vikings win. (2-1)
WEEK 4 – at Carolina Panthers (FOX 9)
It's the Adam Thielen revenge game. The Minnesota native was released by the Vikings in a cost-cutting move, and he'll be catching passes this season from No. 1 overall pick Bryce Young. Thielen will be motivated against his former team, but it's a game the Vikings can and should win. (3-1)
WEEK 5 – KANSAS CITY CHIEFS
The Vikings get their third home game in five weeks when Patrick Mahomes and the Kansas City Chiefs visit U.S. Bank Stadium in October. Flores will have his hands full against one of the best players in the NFL. Can the Vikings out-score the Chiefs? They might have no other choice. It's a Vikings loss. (3-2).
WEEK 6 – at Chicago Bears (FOX 9)
The Vikings wait more than a month for their first division game, traveling to Soldier Field to face the Chicago Bears. They've struggled in that stadium, and we don't know which Justin Fields we will see. It's a Vikings' loss. (3-3)
WEEK 7 – SAN FRANCISCO 49ERS (MONDAY NIGHT FOOTBALL)
The Vikings host the 49ers in Week 7, a perennial NFC West power that always seems to make a playoff run. Their question is at quarterback, will it be Brock Purdy or Marshall native Trey Lance? It'll be a slug fest, but the Vikings find a way to get the win. (4-3)
WEEK 8 – at Green Bay Packers (FOX 9)
The Vikings travel to Lambeau Field in late October, not January, to face the Packers for the first time without Aaron Rodgers. It's officially Jordan Love time. He'll make some plays, but the Vikings will make more to get the victory. (5-3)
WEEK 9 – at Atlanta Falcons (FOX 9)
The Vikings start November with a trip to Atlanta to face a team that went 7-10 last season. Minnesota should have the edge on offense, and it presents an opportunity for a road win and three-game win streak. (6-3)
WEEK 10 – NEW ORLEANS SAINTS (FOX 9)
After two straight weeks on the road, the Vikings come home to face the New Orleans Saints at U.S. Bank Stadium. They beat the Saints in London last year with help from Greg Joseph. Let's hope they don't need five field goals this time, but it should be another Vikings' win. It's also a potential revenge game for Marcus Davenport. That's a four-game win streak. (7-3)
WEEK 11 – at Denver Broncos (Sunday Night Football)
It's a primetime road game for the Vikings, what could go wrong? Well, everything. The Vikings' defense will get tested by Russell Wilson. It won't be pretty for either side, and the Vikings will have their four-game win streak snapped. (7-4)
WEEK 12 – CHICAGO BEARS (MONDAY NIGHT FOOTBALL)
It's a primetime game for the second straight week, but it's against a division rival in the Bears and at home. The crowd will be amped, and the Vikings get a season split with an ugly win over Chicago heading into a much-needed bye week. (8-4)
WEEK 14 – at Las Vegas Raiders (F0X 9)
The Vikings start December in Sin City with an AFC opponent in the Las Vegas Raiders. They'll face Jimmy Garoppolo, and a defense that can be scored on. If they can stay disciplined in Vegas, which is easier said than done, it's a Vikings' win. (9-4)
WEEK 15 – at Cincinnati Bengals 
The Vikings travel to Cincinnati to face Joe Burrow, Ja'Marr Chase and others two years removed from an overtime loss to the Bengals. It's also a reunion with Irv Smith Jr. Burrow will have his day and the Vikings lose. (9-5)
WEEK 16 – DETROIT LIONS (FOX 9)
It's a Christmas Eve tilt in the NFC North, and a weird schedule quirk as the Vikings play the Detroit Lions twice in the last three games of the season. The Lions are the fan and betting favorite to win the division. With playoff implications and the division title potentially at stake, both teams will be ready. The Vikings ride their home crowd to a victory. (10-5)
WEEK 17 – GREEN BAY PACKERS (SUNDAY NIGHT FOOTBALL)
New Year's Eve, Sunday Night Football and the Green Bay Packers coming to a sold out U.S. Bank Stadium. That recipe smells like a disaster for Jordan Love against the Minnesota defense. It'll feel closer than it is, but the Vikings get a win. (11-5)
WEEK 18 – at Lions
The Vikings break tradition and end the regular season against the Lions at Ford Field. At this point, it's possible both teams are in the playoffs, and if seedings are set, starters might be resting or limited in playing time. In a game that may not matter much for either team, the Lions get the home field advantage and win. The Vikings hope it's a glorified preseason game before the playoffs. (11-6).
That puts the Vikings at 11-6, which should be enough for two straight NFC North titles. That means another home playoff game for O'Connell.