Minnesota Vikings take USC WR Jordan Addison with No. 23 pick in NFL Draft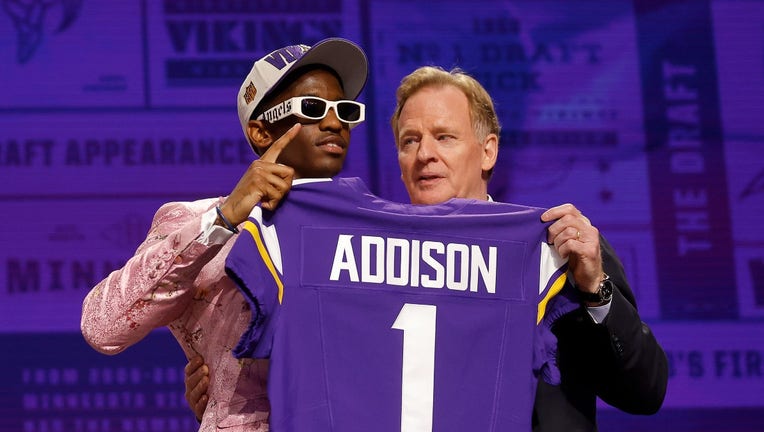 article
MINNEAPOLIS (FOX 9) - The Minnesota Vikings had plenty of options with the No. 23 pick in the NFL Draft Thursday night. They could've moved up, and found a future replacement for Kirk Cousins.
They could've moved down, added a defensive talent and acquired more assets for the later rounds. Instead, they stayed at their spot and added a talented receiver in USC's Jordan Addison that they feel provides a complementary piece to Justin Jefferson, one of the top wide receivers in the NFL.
The Vikings used all of their 10 allotted minutes on the clock with the No. 23 pick. Kwesi Adofo-Mensah was on the phone for most of it, likely fielding trade calls. When it was done, they got the guy they wanted in Addison.
"Jordan Addison is somebody we targeted very early in the process. Kevin has a phrase he likes to use a lot, 'it's natural to him.' We watch a player where you can tell football just makes sense to him. Jordan is somebody that does that," Adofo-Mensah said Thursday night from TCO Performance Center. "It's natural to him, we're excited to add him."
Vikings coach Kevin O'Connell said Addison met the criteria of both filling a need, and being among the best players available when they were on the clock.
"It was a need for us, so we wanted to make sure if a true impact player at that position was available at our pick, we were prepared for it. We're very fortunate he was there at 23," O'Connell said.
He'll join a receiving corps currently led by Jefferson, KJ Osborn and TJ Hockenson after Adam Thielen departed for the Carolina Panthers. How tempted was Adofo-Mensah to move up for a quarterback, or get a top defensive back?
"We added an impact player at a premium position, and that's what we went with. There's a lot of talented players in the first round, we considered a lot of them," Adofo-Mensah said. "Jordan is somebody we're really happy that we ended up with, and I'll just leave it at that."
Addison won the Biletnikoff Award in 2021 as college football's top receiver at Pittsburgh, finishing the season with 100 catches for 1,593 yards and 17 touchdowns in 14 games. He transferred to USC last season, where he was First Team All Pac-12 with 59 catches for 875 yards and eight touchdowns, despite missing three games due to injury.
Addison, at 6 feet and 175 pounds, ran a 4.49 40-yard dash at the NFL Combine, and had a 34-inch vertical jump. He was the last of four straight receivers taken in the first round Thursday night, after Jaxon Smith-Njigba of Ohio State, Quentin Johnston of TCU and Zay Flowers of Boston College.
One of his top-30 visits given to potential first round picks was with the Vikings.
"Before I left from that visit, they told me if I fall to them, they're going to make sure they come and grab me. Once I seen that they was on the clock, I kept checking my phone," Addison said. "It's so crazy, it feels so surreal. I'm just ready to get to work, I know this is just the start."
"There's a reason why we brought him in here. We got right into almost coaching him as if he was already a Minnesota Viking. I think he's very well aware of how we plan to use him," O'Connell said. "Adding that impact player at such a priority position for how we like to move the football and put it all together, it's a big deal for us."
Addison was at the NFL Draft Thursday night in Kansas City, and celebrated the life-changing moment with his family after speaking with reporters.
"I got the family out here so that's who I'm going to be celebrating with. They all back at the hotel right now waiting on me, so it's finna get turnt," Addison said.
Addison certainly doesn't lack confidence. He talked after getting drafted about making plays, making big catches and scoring touchdowns with the Vikings. He wants to score points, and he wants to get paid.
"You can tell there's a quiet confidence. Maybe it was a little louder today after he got the pick, but a very confident person as you would be if you were him," Adofo-Mensah said. "There's a couple players in this draft that you just feel like at birth were supposed to do the thing that they're going to get paid to do in the NFL. He's one of them."
The Vikings currently don't have a second round pick on Friday, and have four total picks left in the NFL Draft.