Minnesota Twins name Pablo Lopez Opening Day starter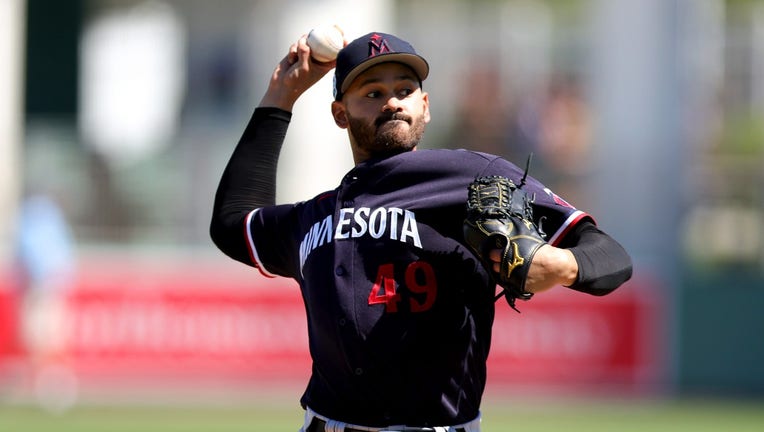 article
MINNEAPOLIS (FOX 9) - The Major League Baseball season is less than a week away, and the Minnesota Twins are getting closer to opening the 2023 regular season in Kansas City.
The Twins on Friday announced from Spring Training in Florida that Pablo Lopez will be the Opening Day starting pitcher when they face the Royals. Lopez was arguably the second-biggest offseason acquisition for the Twins, coming to Minnesota in the trade that sent Luis Arraez to the Miami Marlins.
Arraez was a fan-favorite with the Twins, and won the American League battling title last season. But the Twins needed high-end starting pitching, and they feel Lopez will bring that.
"For Rocco to tell me he wanted me to have the ball the very first game on Opening Day, it obviously meant the world to me. It's always nice to have that encouragement from the coaching staff, from the team," Lopez told reporters on Friday. "They traded Luis Arraez to bring me in. That was very encouraging and it made me want to try harder. It made me want to show up and let them know I'm here to try everything I can."
Lopez spent his first five MLB seasons with the Marlins and last year, went 10-10 in 32 starts with a 3.75 earned run average, 174 strikeouts and just 53 walks in 180 innings. That number would've led the Twins' starting rotation last year. 
POLANCO, KIRILLOFF TO START SEASON ON INJURED LIST
The regular season hasn't even started yet, and the Twins are already dealing with injuries. Baldelli told reporters earlier this week that Jorge Polanco and Alex Kirilloff will start the season on the injured list.
Polanco has not played in any Spring Training games this season, still dealing with a knee issue that ended his 2022 season after 104 games. He hit .235 with 16 home runs, 16 doubles and 56 RBI. Kirilloff missed most of last season with a wrist injury, and has only played in minor league games in Spring Training.
Twins' center fielder Byron Buxton will start the season as a designated hitter as he works his way back from offseason knee surgery, Baldelli said this week. He made his Spring Training debut with a double on Tuesday. The Twins need him as healthy as possible in 2023, he played 92 games last season and has played more than 100 just once, 140 in 2017.
The Twins start the season with three-game series at Kansas City and Miami before coming home to face the Houston Astros in the 2023 Target Field home opener on April 6.