Timberwolves open NBA Playoffs with 109-80 blowout loss to Nuggets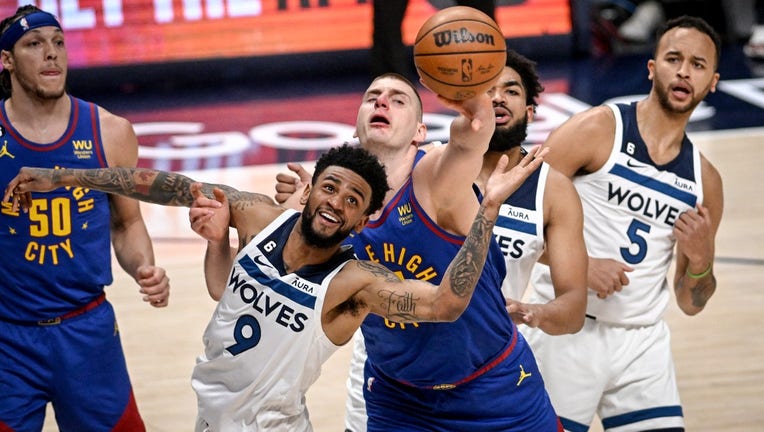 article
MINNEAPOLIS (FOX 9) - Back to the drawing board for the Minnesota Timberwolves.
As high as they were after beating the Oklahoma City Thunder 120-95 Friday night in the NBA Play-In Tournament, they couldn't have gotten the Western Playoffs off to a worse start Sunday night in Denver. The Timberwolves never recovered from a slow start offensively in a 109-80 loss in Denver to start a seven-game series.
Their franchise player and arguably their best player, Karl-Anthony Towns, was a no-show. Towns finished with just 11 points on 5-of-15 shooting, and was 1-of-7 from the perimeter. He was pulled after 30 minutes, with the game over. It came on a night where virtually everyone struggled offensively.
"Gotta flush it, just move onto the next one. It's fine. It's a series, so we've got to move on and get ready for the next one. S**t happens, move on," Towns said after the loss. "Shot felt good. It was one of those nights it just wasn't going. I took good shots, staying aggressive. I'm a hell of a shooter. I know that, believe that, know it. Proved it. So I just gotta go out there and make the shots next game. Obviously it's one of our worst games. We all didn't play well, just got to get back to Game 2, it's that simple. There's not really much to say, the game speaks for itself."
Anthony Edwards led Minnesota with 18 points on 6-of-15 shooting. Their two other scorers in double figures were Kyle Anderson with 11 points, and Jaylen Nowell with 12 points. The Timberwolves shot just 37 percent from the field, 30 percent from the perimeter and 56 percent from the free-throw line. Their 80 points and 37 percent shooting are both the lowest of the season so far, and it couldn't come at a worse time.
"All night long our offense was off the mark," Timberwolves coach Chris Finch said after the loss."They were way more physical than we were. Played with more speed and more force, kicked our butt in every category that you could possibly imagine." 
Trailing 55-44 at half, the Timberwolves committed four turnovers and scored just one point in the first 3:30 of the third quarter. The Nuggets pulled away, out-scoring Minnesota 32-14 in the frame to lead 87-58 heading to the fourth.
Jamal Murray led Denver with 24 points, eight rebounds and eight assists. Nikola Jokic had 13 points, 14 rebounds and six assists. Michael Porter Jr. had a big night with 18 points and 11 rebounds. Six Nuggets, and all five starters, scored in double figures.
The Timberwolves couldn't make shots, and now have plenty to fix with Game 2 in Denver Wednesday night. Simply put, it was an ugly night in every facet for Minnesota to start the Western Conference Playoffs. 
"I think it's frustrating for all of us, me included. You have to be prepared," said guard Mike Conley Jr. who finished with eight points in 25 minutes. "It might be a wakeup call for a lot of guys on our team, hopefully we'll be ready to go in a couple days."
Maybe it was the late start time. Maybe there was a letdown after a dominating performance Friday night. Whatever the reason, the Timberwolves picked a tough night for one of their worst games of the season. They'll have to take a hard look at themselves before Game 2 Wednesday night.
"We take a hard look at everything we do. We're going to look at this thing, we're going to figure some things out and we're going to be better," Finch said.