Timberwolves trade for Auburn center Walker Kessler, Duke guard Wendell Moore in NBA Draft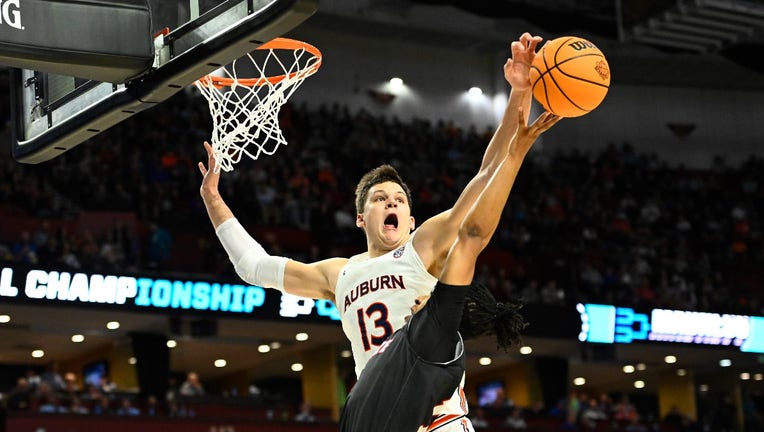 article
MINNEAPOLIS - Tim Connelly had his first NBA Draft Thursday as the Minnesota Timnberwolves' new president of basketball operations, and he had a busy night.
The Timberwolves entered the evening with four picks, and had trades involved with all but one of their selections. They traded the No. 19 overall pick to the Memphis Grizzlies for the Nos. 22 and 29 overall picks. With the No. 22 pick, the Timberwolves selected Auburn center Walker Kessler.
Kessler is a 7-1, 245-pound center who played one season at North Carolina before transferring to Auburn last year. Kessler averaged 11.4 points, 8.1 rebounds and 4.6 blocks per game for the Tigers last season. He was voted the National Defensive Player of the Year, Third Team All-America and was one of five finalists for the Kareem Abdul Jabbar Center of the Year honor after leading the country in blocks. He'd give the Timberwolves a true center, which would give Karl-Anthony Towns position flexibility.
Kessler will come to the Timberwolves as one of the best shot blockers in the country last season.
"You know, I'm ecstatic. I'm excited for the opportunity. I know, as a kid, you look at this level of basketball and you don't really understand that it's a real thing, It's an attainable thing. And to finally get here, I mean, it's surreal. I'm just so excited," Kessler said Thursday night.
That wasn't the last trade for the Timberwolves, either. They traded the No. 29 pick and two future second round picks for the No. 26 pick, and selected Duke guard Wendell Moore Jr. He became the fourth Blue Devils' player selected in the first round. Moore spent three seasons at Duke, and averaged 13.4 points, 5.3 rebounds, 4.4 assists and 1.4 steals per game in 39 starts last season. He played nearly 34 minutes per game for Duke, and shot 41.3 percent from the perimeter.
Connelly, speaking with reporters after the draft's conclusion, couldn't talk specifically about Kessler or Moore until their trades are approved by the NBA. He did say there should be caution on having immediate expectations from either.
"I don't think it has a huge impact. Again, the draft is for the next two, three, four, five, six, seven years. So I think to expect picks, whatever we ended up with, we were moving all over the place, to come make an instant impact on a team that has great depth, that has really productive players, is probably unfair," Connelly said. "I don't think on the immediate future it will have a huge impact."
The Timberwolves traded the No. 40 overall pick, then took Memphis guard Josh Minott with the No. 45 overall pick. The freshman out of Memphis played in 33 games with five starts, and averaged 6.6 points and 3.8 rebounds per game.
With the No. 50 overall pick, the Timberwolves selected Matteo Spagnolo, who has been playing professionally in Italy since the 2017-18 season. Playing last season with Cremona, he averaged 12.1 points, 3.4 rebounds and 2.6 assists per game in more than 25 minutes per game.