Mikko Koivu vows to return from knee surgery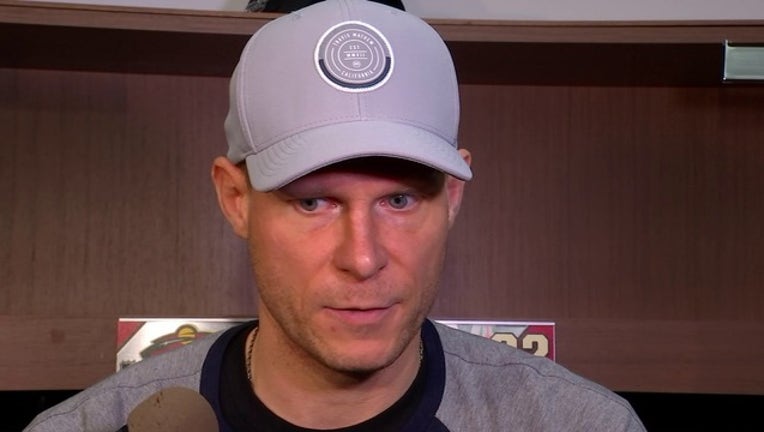 ST PAUL (FOX 9) - Mikko Koivu isn't really sure what to expect the next few months. He's never been through a season-ending injury before.
The Minnesota Wild center has been through a whirlwind of emotions since a Feb. 5 collision near center ice with Buffalo Sabres wing Tate Thompson. He got back to the bench, but didn't play the final two periods and didn't know the severity of the injury until conferring with team doctors.
Koivu is out for the rest of the season after an MRI showed he tore his ACL and meniscus. He's had surgery and already started the rehab process. His hope is to be ready to participate in training camp, which is in September.
"Training camp right now, I think it's too early to talk about it too much. That's definitely my goal and making sure that you're 100 percent once camp starts again," Koivu said.
Koivu talked publicly in the locker room on Thursday for the first time since having the surgery. He hobbled in crutches, but is managing to stay positive despite the devastating injury. His biggest adversity might not have anything to do with his knee. There's not really any role he can play in helping his team get better on the ice.
The Wild is currently in the second Wild Card spot in the Western Conference with 59 points. They're four points out of sixth and seven out of fifth, but there's also plenty of teams in the rear-view mirror. Vancouver is just two points back. Arizona, Chicago and Colorado are just four points behind the Wild.
There's nothing he can really do to help control his team's playoff fate.
"First of all you realize right away the season is done. Never had that in my career that you don't really have that goal to get back on the ice and be with the team," Koivu said. "First when you know the news, how long you're going to be out. It's almost like a hopeless feeling or tough to describe what you go through.
"I think once you get hurt that's the tough part. You're not really a part of the team and every guy, especially this time of the year, you're just getting ready for the games. They don't really worry about nothing else and they shouldn't. That's just the reality. I don't think there's a lot I can do," Koivu said.
The Wild is 1-4-2 since its bye week, and 1-4 since Koivu's injury. In the 48 games he did play with Minnesota this year, he scored eight goals and had 29 total points. He also had two power-play goals.
He's a captain, and has more meaning to the Wild than any stat sheet can tell. Nobody knows that more than coach Bruce Boudreau.
"I just told him we missed him and it has nothing to do with, people from the outside look at well he had eight goals. He does so much more for this team in the locker room, outside the locker room," Boudreau said. "The little things of playing against every team's top center, every face off that's important, every time you need something, whatever age he is, he's the most ice-time guy we have and there's a reason for it, because he's a hell of a hockey player. No one can replace Mikko on our team."
So what's next for Koivu? Rest, and a lot of it. So much that it might cause his wife to get a little ornery until he can get mobile again.
"Not a lot of fun, there's not much you can do right now. Laying on the couch and watching TV. The wife has to do all the work now, now there's four kids at the house, so that can't be fun for her," Koivu said.
So while Koivu rests and starts to get strength back in the knee, his teammates will battle every night to set themselves up for a potential spot in the Stanley Cup Playoffs.
Koivu quelled any possibilities that the injury might be the end of his career. He's 35 years old and was in his 14th season. He's determined to come back and be the same player he was before, if not better.
"I'm totally confident, I think those are just numbers. I think it's about your effort, the way you take care of yourself on and off the ice and at the end it's going to be a battle," Koivu said. "But if you're strong enough you're able to do it."