Matt Boldy's hat trick leads Wild to 5-1 win over Seattle Kraken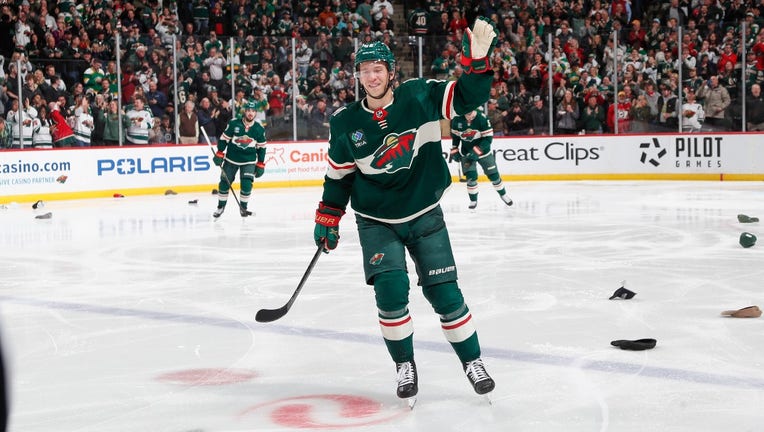 article
MINNEAPOLIS (FOX 9) - Matt Boldy is on fire, and all the Minnesota Wild do is find a way to win games without their best player.
Boldy netted his third career hat trick Monday night, and second in five days, as the Wild beat the Seattle Kraken 5-1 at Xcel Energy Center. The Wild improved to 6-1-2 without Kirill Kaprizov, who remains sidelined with a lower body injury, and is now third in the Western Conference at 95 points. They also lead the Central Division, one point ahead of Colorado.
Boldy's three hat tricks is second-most in Wild franchise history, and his 11 goals since Kaprizov went out leads the NHL. He's only the fourth U.S.-born player to have three NHL hat tricks before turning 22, and one of five to do so since 2000-01. That's a list that includes Marian Gaborik and Connor McDavid.
With their star out, Boldy has been one of many to step up.
"It just seems to be going in," Boldy said after the win. "We've got a lot of games left," Boldy said. "Just kind of keep my confidence, keep playing the way I'm playing, and keep shooting."
"He's on a tear right now. Hopefully he can keep it up," Joel Erikkson Ek said.
Boldy has 28 goals on the season, and it was his sixth multi-goal game this year. 
"I think he gets now that he helps the team a lot when he scores goals," Wild coach Dean Evason said.
While "next man up" is an often-used cliché in sports, it holds very true with the Wild. In the nine games Kaprizov has missed, the Wild have had 16 different goal scorers.
Marc-Andre Fleury made 35 saves in the win.
The Wild is 15-1-4 since Feb. 17, and those 34 points are the best in the NHL over that stretch. They're 43-22-9 on the season with eight regular season games to play, and still fighting for playoff positioning.