'Keys to the Locker Room' gets sports gear to inner city kids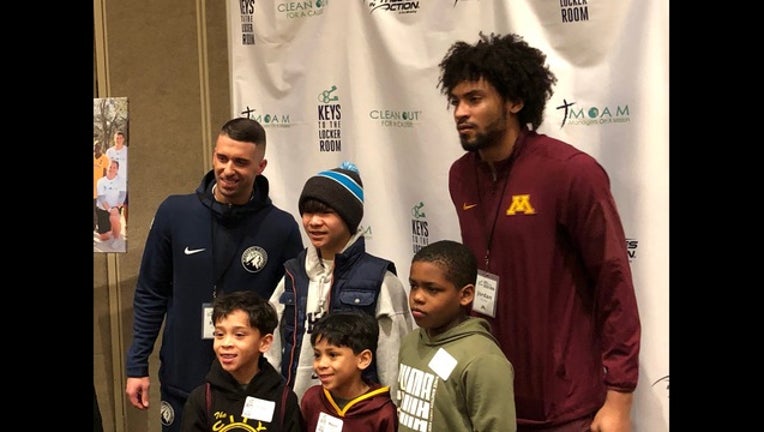 MINNEAPOLIS (FOX 9) - It was just supposed to be a class project for Drew Boe during his time at Virginia Tech.
Nearly six years later, he's developed "Keys to the Locker Room" as a way to connect his faith to sports, and giving merchandise to inner city youth who might not otherwise be able to afford it. Boe held an event at Minneapolis Convention Center Thursday morning, along with former University of Minnesota basketball coach Tubby Smith, to get local kids gear that would likely go unused.
Boe ran the event in conjunction with Athletes in Action and Managers on a Mission on Final Four weekend. He was a football student manager at Minnesota for two years, and then a basketball manager in 2013 under Smith. That's when the idea took shape.
Keys to the Locker Room takes donated sports apparel – shoes, shirts, jackets and anything else, and finds a new home for it. The gear can go to low-income youth, it's gone on mission trips to Africa and it's on an E-commerce web site for sale at a discounted price, created by Boe, to help him fund his annual programs.
His first donation came from Tubby Smith after he was let go as Gophers' basketball coach.
"It was just supposed to be a class project and when Tubby got fired, I shared the vision with him. He was, of course, quick to donate all his old Gophers gear and that's what really set the fire to this whole thing," Boe said. "Been trying to keep up with the Lord ever since."
Boe's vision took him to Virginia Tech, where he worked with then football coach Frank Beamer. He went on his first mission trip to Rwanda, which he called a "life-changing experience."
"The Lord really put this vision on my heart of connecting the sports industry with what He's doing at those orphanages I happened to be at," Boe said.
Smith knows success. More importantly, he cares more about turning college kids into respectful men. He won a national championship with Kentucky in 1998, took over at Minnesota after Dan Monson's departure and led the Gophers to three NCAA Tournament appearances. He's now coaching at his alma-mater, High Point.
He said Thursday the work Boe is doing through Keys to the Locker Room is like winning a national championship.
"When you get that euphoric, exciting feeling that He's the purpose and the reason why Drew is doing an honorable thing that he's doing through his Christian faith. He's made an awful lot of sacrifices, so to see this and the turnout and the belief in what they're doing. That's important to me," Smith said.
Boe's work didn't take long to take off. The first donation was 50 pounds of athletic gear. Since 2013, his group has collected more than 200,000 pounds of gear donated by hundreds of college programs, and half of all the professional sports teams across the country.
It's more than 5,000 items valued at about $250,000. Smith remembers being inspired to encourage others to give after going to Kenya with his wife on a mission trip through a church. Boe was one of his managers at Minnesota.
"We told the team and everybody that would listen how great that experience was to give back, to serve others. If you have more than one pair of shoes, more than one shirt, you have an abundance of things to give," Smith said.
Current Timberwolves interim coach Ryan Saunders was a senior for the Gophers when Smith was hired. The two formed a relationship, and he still keeps in touch with Smith when he can.
Saunders was at Thursday's event signing autographs, posing for pictures with Wolves fans and recognizing the importance of how far the charity work can go.
'It meant a lot to me, having him in my life. The appreciation I have for him and what he's doing for others is huge," Saunders said of Smith. "The distribution of gear for young athletes it's huge. I think it's something special that everybody should appreciate."
Timberwolves forward Anthony Tolliver joined Saunders at Thursday's event. He, along with Gophers star Jordan Murphy, were fan favorites when it comes to autographs and posing for pictures. The event also featured several other Gophers student-athletes.
In the bigger picture, it was an easy sell for Tolliver to promote giving athletic gear to kids who need it.
"I've been blessed with a lot. Any time I get a chance to come to an event like this where we get to give to others, especially sports equipment, it's a wonderful thing," Tolliver said.
It's taken a lot of work for Boe to combine the passion for his faith and sports, but it appears he found the perfect way to do it.