Karl-Anthony Towns talks Timberwolves, trade speculation on Pat Beverley podcast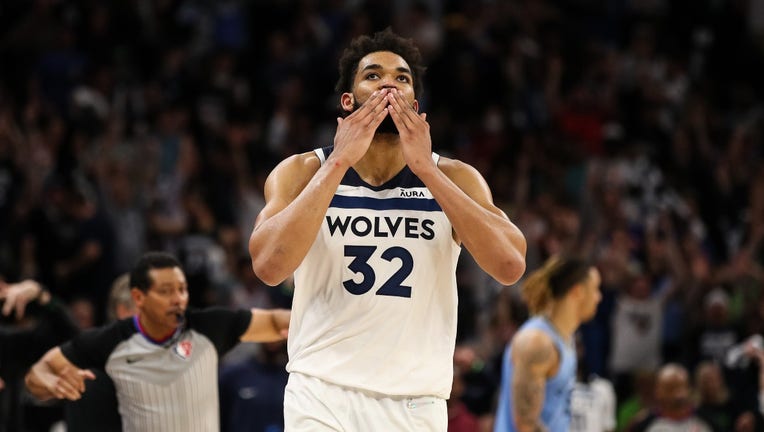 article
MINNEAPOLIS (FOX 9) - The NBA Draft is one week away, and in the seven days leading up to that night, there's always plenty of trade speculation among teams.
Nobody is more aware of that than Minnesota Timberwolves forward Karl-Anthony Towns. He may or may not have shed some light on his future with the team on Wednesday, appearing on Pat Beverley's podcast. The two were teammates when the Timberwolves beat the L.A. Clippers two years ago to earn the No. 7 seed in the Western Conference Playoffs.
There's been speculation among several teams that the Timberwolves might try to move Towns this offseason, after Tim Connelly made the blockbuster trade for Rudy Gobert and has a budding star in Anthony Edwards. The pairing of Towns with Gobert didn't work, largely because Towns missed more than half the season with a calf injury.
Towns hears his name in the speculation.
"Future-wise, I see everyone is trying to sell my house but me," Towns joked with Beverley.
"If the Minnesota Timberwolves trade KAT, that's probably one of the worst things they can do right now," Beverley said.
"I'm going to keep it as simple like this, all I'm going to say on it is the rumors are as true or as false as Minnesota makes them to be," Towns said.
He also turned some heads in the basketball world, commenting on his skills that got him to the NBA.
"When my time is up and I retire… there will be people that say I changed the game," Towns said.
Timberwolves coach Chris Finch talked about Towns at a youth basketball academy in Eagan earlier this week, and his comments implied the star's future is in Minnesota.
"We know KAT missed 50-some games, so that's the biggest piece because that kind of lays at the heart of how it all works best. The most important is that going into next season, we learned enough to have a way better starting point about what we feel will work and what won't work, and some of the challenges that lie in between all that," Finch said.
A reminder that Towns is 0-3 in playoff series with the Timberwolves, losing with Jimmy Butler to the Houston Rockets. The Timberwolves lost to the Memphis Grizzlies last year, and to the eventual NBA champion Denver Nuggets this year.
If a trade involving Towns happens, which is unlikely, it'll be leading up to the NBA Draft.