Gophers: What the Dennis Evans de-commitment means for Minnesota basketball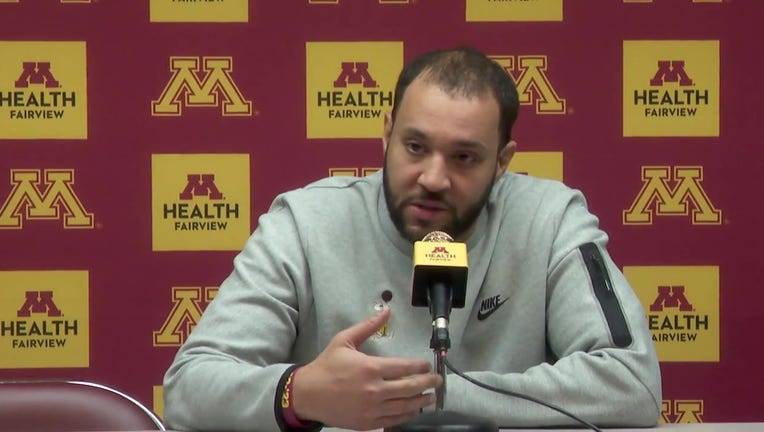 article
MINNEAPOLIS (FOX 9) - The season has been nothing short of miserable for Ben Johnson and the University of Minnesota men's basketball team.
The Gophers are 7-20, just 1-16 in Big Ten play and have lost 12 straight games. If that's not enough, Johnson and the Gophers were handed a bit of a gut punch last Friday. News broke that five-star center Dennis Evans, one of the top big men and players in the country, had asked for and will be granted a release from his National Letter of Intent with Minnesota.
Evans visited Minnesota last fall, committed to Johnson and the Gophers in October and made it official after signing in November. Evans would've been Minnesota's highest-rated recruit since Kris Humphries in 2003. But that's no longer the case, as he's re-opened his recruitment. Whether it's because of NIL opportunities elsewhere, or concerns about the future of the program based on this year's struggles, only Evans and those closest to him know why this decision was made.
The Gophers' fan base is losing patience, and Johnson isn't yet through his second full season with the Gophers. Some online chatter has even indicated that there should be a coaching change. Some fans feel the sky is falling with the Gophers' program after the Evans' news, but that's simply not the case.
Minnesota Athletic Director Mark Coyle has showed diligence and patience with all of his coaching hires. That won't change with Johnson, and it shouldn't. If we get to this time next year and nothing has changed, then the conversation on a new coach can probably start.
Evans having a change of heart is tough news, and it's troubling. But the sky is not falling on the Gophers. Pharrel Payne has been one of the biggest bright spots of the season, and Dawson Garcia has looked like the player he was expected to be after missing time with a bone bruise in his foot.
Both should be back next season, and the Gophers have talented freshmen in Braeden Carrington and Joshua Ola-Joseph. They're taking their lumps now in the hopes that things will get better if they stick it out with the Gophers.
What Johnson must address after the season in the NCAA transfer portal is guard play. The Gophers turn the ball over too much, don't score consistently and are among the worst in the country in free-throw percentage. That, and they've been inconsistent defensively.
The Gophers host Rutgers Thursday night and Wisconsin on Sunday before heading to the Big Ten Tournament. Losing Evans hurts, but it doesn't have to set the program back multiple years. Johnson will do everything his power to make sure of that, assuming Coyle lets him.
GOPHERS/MICHIGAN STATE GAME WON'T BE RESCHEDULED
The Gophers' game at Michigan State, originally planned for Feb. 15, will not be rescheduled. The game was canceled after a mass shooting on campus in East Lansing the day before that left at least three people dead and five others wounded.
Tom Izzo told reporters on Monday the two teams don't have enough open dates to get a game in before the Big Ten Tournament, and it will be declared a no-contest.