Gophers: Takeaways from Minnesota's spring football season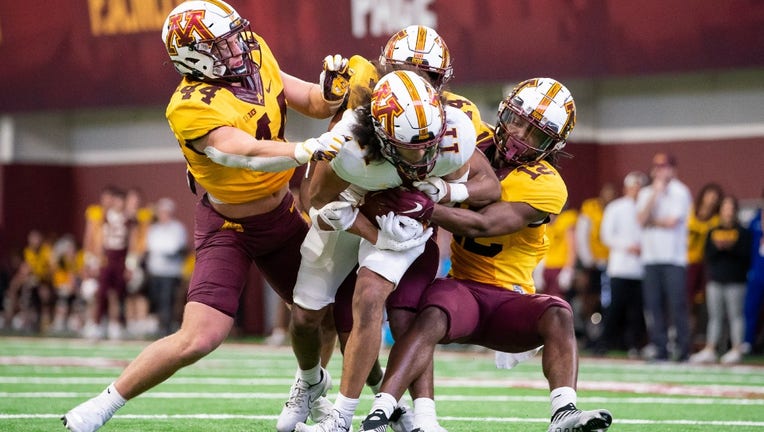 article
MINNEAPOLIS (FOX 9) - The University of Minnesota football team's spring season concluded on Saturday with the annual Gold versus Maroon scrimmage.
Gold beat Maroon 36-34 with a late two-point conversion from Zach Evans. It's the last time we'll see the Gophers until fall camp starts in August. The season kicks off on Aug. 31 against Nebraska at Huntington Bank Stadium, in the Cornhuskers' debut for Matt Rhule.
After 15 practices and the Spring Game, here are takeaways on the Gophers.
QB COMPETITION BETWEEN ATHAN KALIAKMANIS, COLE KRAMER?
Athan Kaliakmanis is the presumed starting quarterback for the Gophers, but at minimum, he will get pushed by veteran Cole Kramer. The first three possessions for Kaliakmanis Saturday ended in punts, and he also had an underthrown pass intercepted. Meanwhile, Kramer hit an open Tyler Nubin on a trick play for a touchdown. He later connected with Le'Meke Brockington on a deep shot that led to another score. Unofficially, Kramer went 11-of-18 for 288 yards.
Kaliakmanis settled in, running for a touchdown and connecting with Elijah Spencer for another score. Unofficially, Kaliakmanis went 13-of-19 for 188 yards. Kaliakmanis was the guy PJ Fleck turned to last fall when Tanner Morgan went down. Kramer will likely get is snaps in the fall, but the starting quarterback job is up to Kaliakmanis to lose.
NEW FACES IN THE RUNNING BACK ROOM
Minnesota's all-time leading rusher Mo Ibrahim is gone. Trey Potts left the team. Bryce Williams is the only veteran back, which means a host of new faces for the Gophers in the backfield in 2022. Fans can get excited by Zach Evans, and freshman Darius Taylor. Evans was one of three Spring Game MVPs, with 13 carries for 110 yards and a 75-yard touchdown run. Taylor, highly-touted out of Michigan, had seven touches for 48 yards and a 2-yard touchdown. Fleck will have four options to run the ball between Williams, Evans, Taylor and Western Michigan transfer Sean Tyler, who was limited in the Spring Game.
NEW WIDE RECEIVERS EMERGE
Chris Autman-Bell and Brevyn Spann-Ford didn't participate in spring football due to injuries. Daniel Jackson had his moments as the top returning receiver. Saturday's Spring Game showed what Fleck has in Elijah Spencer, and Brockington. Spencer had 11 catches for 133 yards and a touchdown from Kaliakmanis largely on slants. Brockington earned an MVP award with eight catches for 181 yards, including a 69-yard touchdown.
Dylan Wright and Michael Brown-Stephens are gone. The Minnesota wide receiver room is now Autman-Bell, Corey Crooms, Spencer, Brockington, Jackson and Spann-Ford. That's a lot of weapons for Kaliakmanis.
WHO PLAYS LINEBACKER?
It's Cody Lindenberg's turn to be the leader at linebacker with the departure of Mariano Sori-Marin. After that, who joins him is a big question. Devon Williams stood out in time with the first-team defense, and Maverick Baranowski had flashes. The other options are Joey Gerlach, and Western Michigan transfer Ryan Selig.
DEPTH A CONCERN IN SECONDARY
One of the biggest questions facing the Gophers in the fall is the secondary. Jordan Howden and Terell Smith are off to the NFL. Beanie Bishop and Ryan Stapp transferred, as did nickel Flip Dixon. Justin Walley is the veteran returning starter in the secondary, along with safety Tyler Nubin.
Kerry Brown intercepted Kaliakmanis in the Spring Game, and after that, it's a combination of Darius Green, Coleman Bryson, Rhyland Kelly, Jack Henderson and Tariq Watson. There's talent, but it's largely yet to be proven in a game.
DRAGAN KESICH IS THE KICKER
The Gophers have largely been spoiled with Matthew Trickett as the kicker. Now, it's time for Dragan Kesich to take the job along with kickoff duties. Kesich has a big left leg, and it was on full display at the Spring Game.
Kesich converted on kicks from 31, 39, 46 and 48 yards. He'll also get pushed by Ball State transfer Jacob Lewis in the fall. But the kicking job is for Kesich, one of the team's characters and personalities, to lose.
The Gophers have as much talent as Fleck has ever had as he now enters his seventh season in Minnesota. But how will it translate on the field? The 2023 season includes a non-conference trip to North Carolina, and Big Ten crossover games against Michigan and Ohio State. They also host Wisconsin and go to Iowa for rivalry games.