Gophers RB Mo Ibrahim named Big Ten Offensive Player of the Week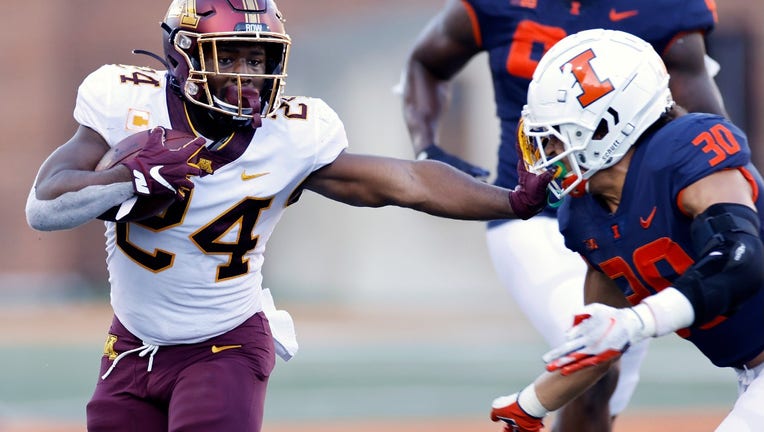 MINNEAPOLIS - After helping lead the University of Minnesota football team to a 41-14 win at Illinois on Saturday, running back Mohamed Ibrahim has been named the Big Ten Offensive Player of the Week.
Ibrahim had 30 carries for 224 yards, which tied a career high, and four touchdowns. For the second straight week, he had more than 200 yards rushing and four touchdowns. He became the second Gophers running back ever to record consecutive 200-yard rushing games, joining Terry Jackson II in 2002.
Through three games, Ibrahim leads the Big Ten with 571 rushing yards, averaging nearly six yards per carry, and leads the league with 10 rushing touchdowns. He's averaging 190.3 yards per game, also best in the Big Ten.
"I think he's one of the most special backs in America," Gophers coach P.J. Fleck said after Saturday's win, Minnesota's first of the season.
Fleck added Monday he could see Ibrahim's potential when he was a scout team running back translating to what he's done through three games this season.
"He literally got beat up every single day, but he never ever missed a practice. Playing scout team running back from Day 1 all the way through the end of the season, that's incredibly difficult. Never missed a day, got better, never complained about it. That's the one thing that's impressive, he never complained about where he was," Fleck said. "He kept his feet where his head was and that's what he was going to do. He was going to get better, use it as growth and that's what you see today. He hasn't changed a bit, he just does it now instead of scout team, he's doing it with the 1s. He's earned everything he's gotten."
It's the first Big Ten Offensive Player of the Week Award for Ibrahim. Tanner Morgan was the last player to win it after leading the Gophers past Penn State last November.