Gophers' Mo Ibrahim named Big Ten Running Back of the Year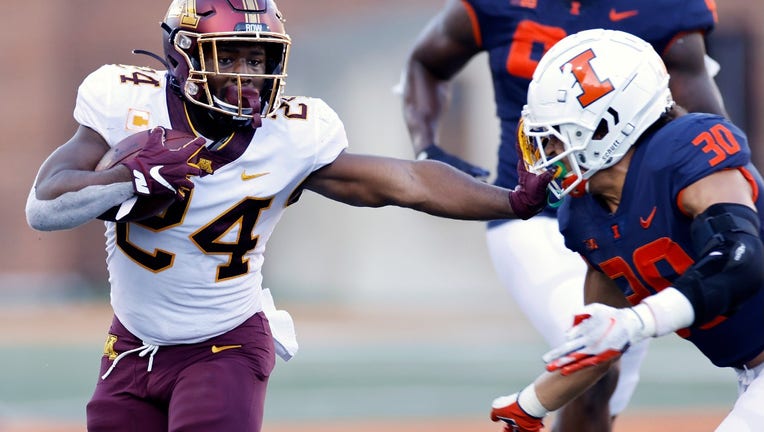 article
MINNEAPOLIS - For the second straight year, the University of Minnesota football team has a skill position player voted as the best in the Big Ten.
Gophers' redshirt junior Mohamed Ibrahim on Tuesday was named the Big Ten's Running Back of the Year, and a First Team All-Big Ten pick by the league's coaches and media. Ibrahim leads the Big Ten with 925 rushing yards, and 15 rushing touchdowns despite the team cancelling two games due to COVID-19 issues.
"I'm still kind of shocked right now, I just found out like a few minutes ago. I'm still settling in with the fact that they gave me that award. The first thing I did was talk to my O-line, my tight ends and my wide receivers just to say thank you for everything that they've done. I couldn't do it by myself," Ibrahim said. "I'm not the fastest, I'm not the strongest, but with them, we work together and we get the job done so I had to thank them first."
Ibrahim has rushed for at least 100 yards in all six games this season, has two 200-yard games and has seven straight 100-yard rushing games, tying the school record set by Laurence Maroney. Ibrahim is also one of 10 semifinalists for the Doak Walker Award, which goes annually to the top running back in college football.
"He's very deserving of that award. I think he's the best running back in the country," quarterback Tanner Morgan said. "His ability to break tackles, do the unrequired work, do the little things that people may not even notice. Slipping through holes and making things happen. Obviously he's having an elite year and I think he's incredibly deserving of this award. It's awesome to see him get honored this way."
Rashod Bateman, who opted out of the rest of the season after COVID-19 issues within the Minnesota program, was chosen Third Team All-Big Ten by the coaches and media. Bateman, the Big Ten Receiver of the Year last season, had 36 catches for 472 yards and two touchdowns in five games.
Offensive linemen Blaise Andries and Conner Olson were also selected Third Team All-Big Ten by the media.