Gophers have 10 NFL hopefuls workout at annual Pro Day
MINNEAPOLIS (FOX 9) - PJ Fleck remembers a day not that long ago when he could count on one hand the number of NFL personnel at a University of Minnesota football Pro Day.
After his first season, there were four people that came to watch Gophers' players workout. Fleck and the Gophers held their 2023 Pro Day on Wednesday at Athletes Village. There were around 70 NFL personnel on hand between scouts, front office staff and coaches.
Every NFL team was represented, including Kevin O'Connell, Kwesi Adofo-Mensah and much of the Vikings' staff. Many current Gophers' players stopped by the workouts to watch their former teammates, and take in the setting.
Some day, it might be their time in the spotlight.
"I don't think I have to motivate anybody, I think today speaks for itself. When you look at the turnout, all 32 teams here, you don't have to motivate them at all. All you've got to do is bring them out on the field," Fleck said. "That's a credit to the players, that just shows where the program is heading."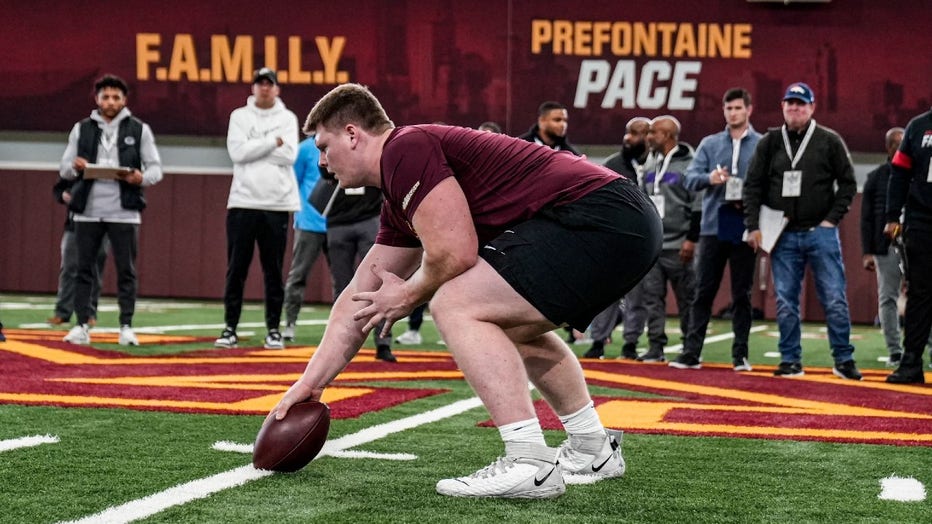 John Michael Schmitz was one of 10 Gophers to workout at the team's Pro Day on Wednesday at Athletes Village in front of NFL personnel from all 32 teams. (University of Minnesota Athletics)
The Gophers had 10 players featured at Wednesday's Pro Day, and four of them – John Michael Schmitz, Mo Ibrahim, Terell Smith and Jordan Howden – were coming off being at last month's NFL Combine. Schmitz didn't do much of the testing that he already did at the Combine, but did do on-field work with the Giants' and Vikings' offensive line coaches.
Schmitz will get a phone call next month, it's just a matter of if it's in the first round or elsewhere. He said he met with as many as 10 teams at the NFL Combine.
"Just thinking about the journey and how far I've came. I've been playing this game since I was 5 years old, so just looking back at that and seeing where I am now, it's special. I'm just grateful for the opportunity to be in my shoes," Schmitz said.
Six other Gophers' standouts – Chuck Filiaga, Axel Ruschmeyer, Tanner Morgan, Thomas Rush, Mariano Sori-Marin and Matthew Trickett – also got the chance to participate.
Morgan went through every drill there was for a quarterback to do, and went through passing situations before the day was over. Howden had a 39.5-inch vertical, Rush ran a 4.5 40-yard dash and Trickett made 8 of-9 field goals from at least 40 yards out. That includes a conversion from 62 yards out, with his only miss coming from 61.
For the six players who weren't at the NFL Combine, Wednesday was their last real chance to get seen by scouts and staffers before the draft. Their path to the NFL is less clear, likely as undrafted free agents.
"It's everything, that's the whole point of why we do this and why I'm so thankful that the U has this program in place for us. If we didn't have this, I didn't go to the Combine, there's no way I could show who I am to coaches like this," Ruschmeyer said. "It's a huge opportunity. Anything to be able to get my foot in the door and be able to show what I can do playing football outside of the numbers."
Ruschmeyer said he nearly quit playing football after the 2021 season, but came back last year to play with his brother, Jackson. Now, he's one of nine players who Wednesday got their last chance to make an impression on NFL scouts. 
Fleck called himself a proud dad watching his players go through Wednesday's action. Fleck is 44-27 in six seasons with the Gophers, has won at least nine games in three of the last four years and is 4-0 in bowl games. The 10 players who had Pro Days had a lot do with that.
"It's incredibly rewarding. When you sit down and recruit these young men and you sit down with their families and you listen to their hopes, dreams and aspirations, this is what they talk about," Fleck said. "If you don't love football, it's going to be hard for you to go through a football program at this level. They all love it and to watch them get a chance to accomplish all their dreams, it makes you a proud parent. This is what coaching is, take them from where they were to where they want to be. Today they get a chance to go prove themselves."