Gophers F Parker Fox out indefinitely after right knee injury in summer workouts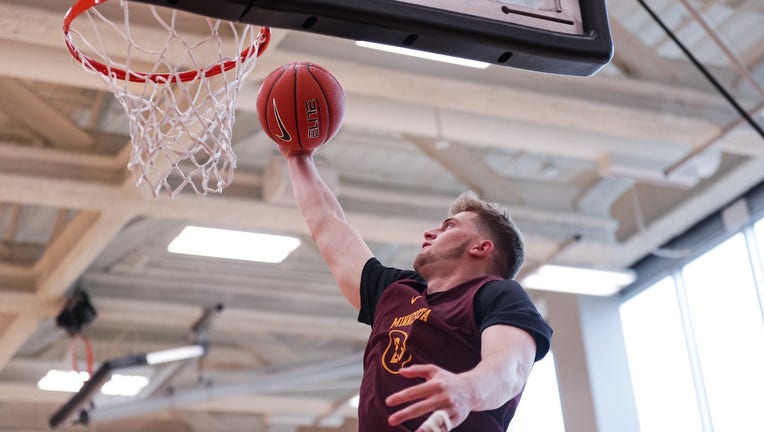 article
MINNEAPOLIS - The University of Minnesota men's basketball team is one week into its summer program, and it appears the Gophers are already dealing with a potentially significant injury to an impact player.
Ben Johnson told reporters on Tuesday forward Parker Fox suffered a right knee injury in practice on Monday. Fox, a Mahtomedi native who was a Division II All-American at Northern State before transferring back to Minnesota last season, missed all of last year with a left knee injury in the offseason.
The latest injury is to the opposite knee, and he'll be out indefinitely. There is no timetable for his return.
"It was just a normal play. It was in a crowd. It's just unfortunately one of those things that comes with playing. We'll support him until we find out further information and obviously hope for the best for him and figure out where we go from there once we get the right info," Johnson said.
Fox had returned to practicing with the Gophers by the end of last season, but wasn't going to play until the 2022-23 season. His jump and athleticism had returned in social media highlight videos released by the team, and looked ready to be a major contributor this season.
It appears that's on hold for the immediate future, and the hope is it's not a season-ending injury. Fox was one of the team's most vocal and supportive players on the bench while the Gophers went 13-17 last season.
"You talk about a guy that did probably the best job I've been around as far as the rehab. When he first did it and he committed, I told him you're probably out for the whole year. There was never a rush on his end to try to get back," Johnson said. "He was really confident, and he was playing well. It's just one of those things where hopefully it's something that's not season-ending. You feel for him that he's even put in this position, I saw the work that he put in last year. It's just a lesson that you just never know. We're all one play away from not having good news possibly."
BEN JOHNSON RAVES ABOUT PHARREL PAYNE
Johnson's first real recruiting class features four former Minnesota prep standouts, three in freshmen Pharrel Payne, Braeden Carrington and Joshua Ola-Joseph. Payne, out of Cottage Grove, averaged 22 points, 12 rebounds and two blocks per game last season after missing the first eight games with an injury.
He's 6-9 and 230 pounds, and Johnson raved about his potential on Tuesday. Payne could get significant playing time right away if Fox is out long-term.
"He could play in a Big Ten game right now. He's probably one of the top developed freshman that I've been around. He can go toe-to-toe with anybody. Physically, he's ready," Johnson said. "Pharrel is just a physical force. His ceiling is through the roof."
NO UPDATE ON DAWSON GARCIA WAIVER
Johnson on Tuesday did not have an update on a medical hardship waiver to grant Prior Lake native and transfer Dawson Garcia immediately eligibility for the 2022-23 season. Johnson said the paperwork has not yet been filed to the NCAA.
"We're just going to be as due diligent as we can. You can hand it in early, but you still might not get an answer until down the line," Johnson said. "It's just more important on our end that we're crystal clear with the waiver."
A McDonald's All-American two years ago, Garcia spent one season at Marquette. He left the program after Steve Wojchichowski was fired, using his one-time transfer to go to North Carolina. Garcia played 16 games with the Tar Heels, starting 12, and averaged nine points, 5.5 rebounds and shot 40.5 percent from the field.
He left the program to come back to Minnesota and be with family. His grandfather passed away from COVID-19 complications, and his father also had to be hospitalized. When he does take the court, he'll be the first McDonald's All-American to play for the Gophers since Kris Humphries in 2003.
"He's good. I think the biggest thing is I don't want him to feel like the weight of the world is on his shoulders," Johnson said. "He's just gotta be like the freshmen. Come in, learn our system, get better every day and see where it can take you. That's who he is, he just wants to work."
The Gophers will have eight weeks of summer workouts, then get a break before school starts in the fall.