Without 33 players, Gophers win 24-17 at Nebraska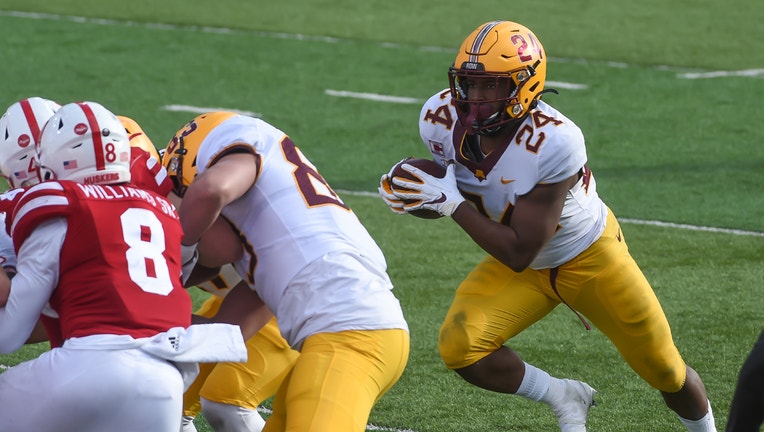 article
MINNEAPOLIS - P.J. Fleck was equal parts proud and emotional talking to reporters after the University of Minnesota football team traveled to Nebraska Saturday and got a 24-17 win over the Cornhuskers.
It was the Gophers' first game in three weeks, since a 34-31 win over Purdue on Nov. 20. Four days later, the team announced their game at rival Wisconsin was canceled and football activities were on pause due to rising COVID-19 cases within the team. Their game the following week against Northwestern was also canceled.
At its peak, 23 players and 26 Gophers' staff tested positive for COVID-19. Saturday at Nebraska, Minnesota was without 33 players between COVID-19 issues and injuries. As is their motto, they responded and didn't let circumstances dictate their behavior. Mo Ibrahim ran for 108 of Minnesota's 206 rushing yards, and scored two touchdowns. Tanner Morgan threw for 181 yards and a score, and the defense played its best game of the season.
Mariano Sori-Marin led Minnesota with 18 tackles, the defense sacked Adrian Martinez twice and created two takeaways. Both led to Gophers' touchdowns, and Minnesota improved to 3-3 on the season. It's the Gophers' second win at Nebraska since 1960.
Fleck first thanked his medical staff after the game for everything they've done this season that's allowed their six games to happen. Team meetings most of the season have been virtual. Saturday's pregame talk was as well. Fleck took a picture of his team's socially-distanced Friday night flight, which included coaches asleep in front of their open laptops.
"Unless you're inside a college football locker room right now, I don't think anybody has any idea how hard this is," Fleck said. "We had 22 days off. There's a mental, physical and emotional toll that this year has taken on everyone, especially these student-athletes, who are away from their families. We have to be that for them as much as we possibly can. To say this is challenging is an understatement. It's the hardest year I've ever had as a head coach, and I've been 1-11."
Without star receiver Rashod Bateman after he opted out of the rest of the season, Morgan completed passes to seven different receivers Saturday. Chris Autman-Bell had five catches for 82 yards, Daniel Jackson had three for 43 yards, Clay Geary had four for 32 yards and Brevyn Spann-Ford caught his first touchdown of the season.
Morgan said after the win a big emphasis during the week was having fun after the team had to pause workouts for two weeks. The Gophers played the game with six offensive linemen, three making their first starts and just two tight ends available.
"Fun is overcoming adversity, fun is responding, fun is executing, fun is finishing a game, finishing a drive. All those different things, and being able to be around our team to have a chance to play football because we didn't for two weeks," Morgan said. "That's fun."
The Gophers struck first Saturday after Tyler Nubin intercepted Martinez. On 4th and inches, Ibrahim took a direct snap 26 yards for a touchdown. They made it 10-0 on Anders Gelecinskyj's 31-yard field goal, his first try of the season. Michael Lantz is out for the year, and Brock Walker wasn't available.
Nebraska answered with a pair of touchdown drives. Martinez hit a wide open Austin Allen for an 8-yard touchdown, then ran one in from seven yards out to give Nebraska a 14-10 lead in the second quarter.
The Gophers had a key answer before the end of the half. A Nebraska targeting penalty on Morgan kept Minnesota's offense on the field, and two plays later, Morgan hit Spann-Ford for a touchdown and a 17-14 Gophers' lead at the break.
"We have a lot of trust in everybody out there on the field. They can make plays, they've proven that time and time again for us. It was really good to see that," Morgan said.
The Gophers got their second turnover of the game near the end of the third quarter. Boye Mafe sacked Martinez, forced a fumble and Thomas Rush recovered. The Gophers turned that into another score.
Trey Potts ran 13 yards to the 1-yard line, and on 4th-and-goal, Ibrahim scored his second touchdown of the day to give Minnesota a 24-14 lead with 11:26 to play.
Nebraska cut the lead to 24-17 on a field goal with 4:42 to play after having a Martinez touchdown called back on a holding penalty. The Cornhuskers never got the ball back.
Morgan hit Geary for a first down, Ibrahim went for 31 yards and with the Gophers facing a 3rd-and-6, Ibrahim ran 12 yards before going down on his own. The Gophers could go into victory formation and run the clock out.
Minnesota's defense, which has had a tough season, limited Nebraska to 111 passing yards, created two turnovers, got two sacks and held the Cornhuskers to 4-of-13 on third downs. They spent their two weeks off self-scouting, with plenty to correct.
"No one really came out there and said 'Oh we have a younger group or we have people that are out.' We kind of said this is what we have and this is all we have, so let's go fight for what we have. I feel like everyone stepped up and took that to heart," Mafe said.
In a season of uncertainty with things changing at a moment's notice, the Gophers are 3-3 with one game left. They're hoping the Big Ten puts them against Wisconsin next Saturday. They handled their circumstances Saturday, and with nearly three dozen players out, responded to their latest adversity.
"I'm just so proud of them. What they've been through is unbelievable. Nobody knows how hard it is for these student-athletes right now. It's been a long season, it's been a long week," Fleck said. "It just shows the effort put into this and I'm just so proud of everyone involved in the organization and in the program. We became 1-0 today, that was the main objective."