Gophers basketball: What we learned from a 61-57 loss to Indiana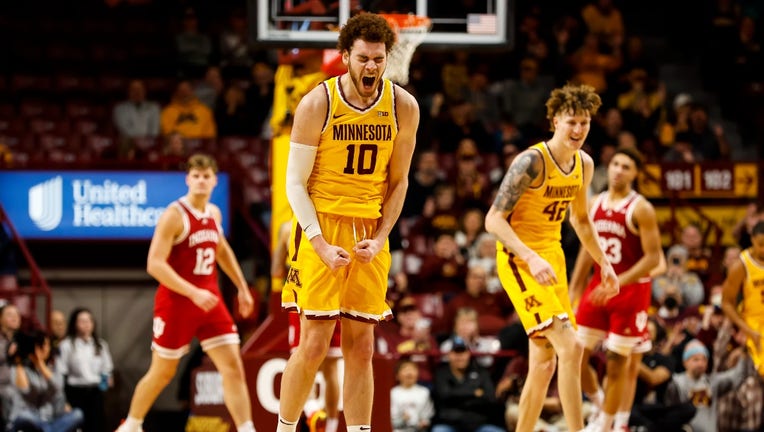 article
MINNEAPOLIS - If it wasn't for bad luck, the University of Minnesota men's basketball team might not have any luck at all.
The Gophers were severely short-handed Wednesday night, down to seven scholarship players, in a 61-57 loss to Indiana at Williams Arena. Minnesota has lost four straight since a win at Ohio State, and is now 1-9 in Big Ten play. Here's what we learned from their latest effort.
BEN JOHNSON'S GAME PLAN ALMOST WORKED
With hardly any depth, Ben Johnson had to change his approach to give the Gophers any chance to beat the Hoosiers. It almost worked. Minnesota spent most of the game in a zone defense, and forced 10 Indiana turnovers and 25 percent shooting from the perimeter.
The Gophers drained the clock on offense, shortening the game and possessions. Jamison Battle had 20 points, shooting 8-of-16 from the field and 4-of-9 from the perimeter. The problem? Nobody else scored consistently. Anyone not named Battle shot a combined 14-of-48, including 1-of-16 from the perimeter. The Gophers shot just 34.4 percent from the field, and 20 percent from the perimeter. It's been an issue most of the season.
GOPHERS NEED TO GET HEALTHY
To call the Gophers banged up is understating it. Dawson Garcia was out with an ankle injury suffered at Michigan. Pharrel Payne was in the concussion protocol after taking a hard fall at Michigan. Braeden Carrington is out at least three more weeks with a leg injury. Parker Fox and Isaiah Ihnen are both out for the season. Jamison Battle might not be 100 percent from foot surgery. Ben Johnson said Will Ramberg basically played on one leg. Joshua Ola-Joseph didn't play most of the second half due to a cramp in his left leg.
The Gophers should be applauded for the fact that Wednesday night was even a close game.
TREYTON THOMPSON STEPS UP
Treyton Thompson hadn't started a game in nearly two months. He's played sparingly all season, but had to go as long as he could legally be on the court Wednesday. Thompson played 37 minutes before fouling out, scoring eight points and grabbing eight rebounds.
Not a natural center, his task was to contain Trayce Jackson-Davis. The Big Ten Player of the Year candidate had 25 points and 21 rebounds. Thompson did he best he could in nearly impossible circumstances.
'WE'RE GOING TO FIGURE THIS THING OUT'
Johnson spent much of his postgame news conference praising his players for their effort. With no depth to speak of, the Gophers essentially played five guys without subbing the entire second half. Only Thompson came out, after fouling out. The Gophers thought they might have turned a corner with a win at Ohio State. They had been competitive in games against Wisconsin and Nebraska, then nearly won at Michigan on Sunday.
They're not getting the wins to show for it, but the players aren't giving up on the season.
"We're going to compete and drill that in our guys the rest of the year and we're going to figure this thing out. But also you want to set the standard going forward. To be able to go through the good and the bad with a group that you're going to be able to bring back, all of these are reference points and teaching points," Johnson said.
We'll see if there's a bounce-back Saturday at Northwestern.