Carr, Kalscheur lead Gophers to 71-68 win over No. 24 Purdue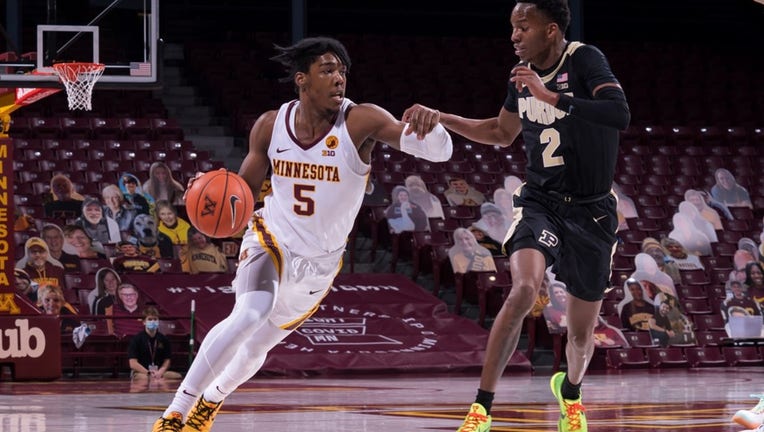 article
MINNEAPOLIS - Marcus Carr is no stranger to taking big shots. He forced overtime in a win over Iowa on Christmas Day. He missed a pair of shots at Rutgers in a 76-72 loss, and put the blame on himself after.
He was at it again Thursday, banking in a 3-pointer from the right wing with 14 seconds to play. It ended up being the game-winning shot as the University of Minnesota men's basketball team got a 71-68 win over No. 24-ranked Purdue in a rare weekday afternoon game at Williams Arena.
The Gophers improved to 13-7 overall, and 13-1 at home this season. It was also their fifth win over a ranked opponent this season as they're now 6-7 in the Big Ten.
"I know it's a quality win. It's all about the quality of your wins. That's a huge win, we'll enjoy it today and then we'll get back to work tomorrow," Gophers coach Richard Pitino said.
Carr finished with 19 points, five assists and four rebounds, and eight of those 19 came in the final minute of regulation. But much of the talk after the win was about junior guard Gabe Kalscheur.
Stuck in a shooting slump for much of the season, Kalscheur scored 16 points, shooting 4-of-7 from three-point range and hitting a pair of late clutch free throws in the win. He added eight rebounds in 38 minutes, and the four 3-pointers are a season-high.
Pitino pulled Kalscheur aside before practice on Wednesday with a simple message: Have fun, and smile.
"I told him you're an awesome human being. Whenever you're done playing basketball, you're going to be extremely successful in life, that's the most important thing. Stop worrying if you miss a shot, go be a gunslinger. I'm never going to tell you not to shoot," Pitino said. "I don't care what the percentages are, I don't care how crazy I look. Go have fun and smile. You could tell he was enjoying himself and he was confident."
Message received, the Gophers hope it's the start of their shooter gaining more confidence.
"It helped a lot. Just him giving confidence, just telling me to go out there and just play free. Not worry about a miss or a mess up on the offensive end. Just go play free and have a bunch of confidence," Kalscheur said. "It really changed my focus just to not think about too many things. I felt really good being out there, a lot more confident."
Back on Jan. 30 at Purdue, the Gophers played a solid first 20 minutes and led 35-30 at the half. Then it all fell apart. They were out-scored 51-27 in the second half, and out-rebounded 44-27 in an 81-62 loss.
They got worn down by Purdue's size and physicality, and they weren't about to let it happen again. Down six for multiple stretches in the second half, the Gophers closed the game on a 15-7 run. In addition to Carr and Kalscheur combining for 35 points, Brandon Johnson added 15 points and seven rebounds, and Liam Robbins had a double-double of 11 points and 10 rebounds.
Minnesota kept the rebounding battle close at 38-36, and limited Purdue to just 2-of-17 shooting from three-point range.
"We definitely came into it with a different mentality. The emphasis was going into halftime, coach just basically told us we're not going to wear down. Just fight through everything, and today we did. We didn't have a relapse of what happened at Purdue," Johnson said.
Trevion Williams led Purdue with 24 points and 10 rebounds. Eric Hunter Jr. added 14 points. But the Gophers kept the game within arm's length in the second half, and made the big shots in the key moments down the stretch.
For one game, Minnesota got its sharp-shooter back.
"It was a big team win. Our defense and our hustle and our rebounds at the end is what sealed the game," Kalscheur said.