No. 21 Gophers pound Michigan State 81-56, improve to 9-1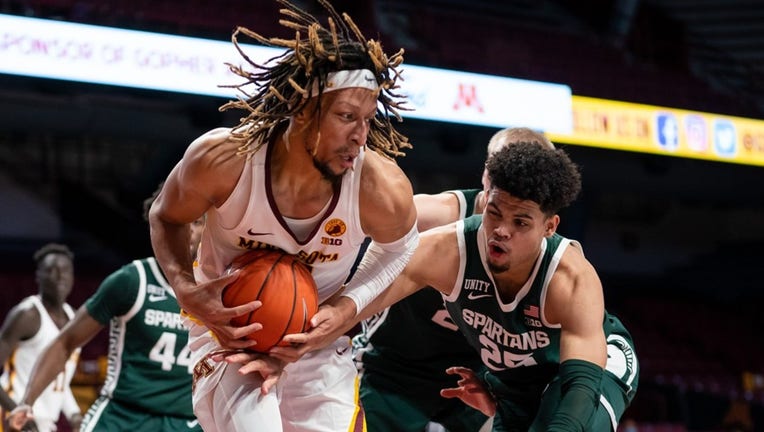 article
MINNEAPOLIS - Richard Pitino wouldn't let himself or his team panic after opening the Big Ten season with a 92-65 loss at Illinois on Dec. 15.
It was their first loss of the season, and it was only one game. That message appears to have been received. The Gophers, fresh off their first appearance in the Associated Press top 25 poll at No. 21, pounded No. 17-ranked Michigan State 81-56 Monday night at Williams Arena. It's their largest margin of victory ever over the Spartans, and it's Minnesota's second straight win over a top 25 team for the first time since 2013.
After that 27-point drubbing at Illinois, what's followed is three straight wins over St. Louis, No. 4-ranked Iowa and Monday's win. The Gophers improved to 9-1, 2-1 in Big Ten play and handed Michigan State its first 0-3 start in the league since the 2001-02 season.
"We've taken major steps forward in the last three games. Illinois absolutely kicked our butts, and we didn't freak out about it. It's only worth one. We kept teaching them, they kept allowing us to coach them. In this league, anybody can beat anybody," Gophers coach Richard Pitino said after the win. "But it's not even January 1 yet, we've just got to keep getting better."
Fresh off earning Big Ten Co-Player of the Week honors, Marcus Carr led all scorers with 19 points on 7-of-13 shooting, including 3-of-6 from three-point range. He added four rebounds, five assists and just two turnovers in 33 minutes.
Liam Robbins had his best game of the season, scoring 18 points on 7-of-11 shooting while grabbing nine rebounds and adding three blocked shots. The Spartans had no answer for Robbins' size at the basket.
"I knew he had it in him since the first day that I met him. Going through practices in the summer and everything, he was pretty much unguardable in practice so I know he has it in him," said forward Brandon Johnson, who finished with nine points and seven rebounds.
The Gophers won Monday night's game with defense and rebounding. Michigan State made just six shots from the field in the first half, missing 12 straight and 17 of 18 at one point. They finished just 26 percent from the field for the game, including 6-of-25 from three-point range.
Michigan State makes a living on the offensive glass, but Minnesota wasn't about to let that happen, especially after allowing 23 offensive rebounds to Iowa on Christmas Day. The Gophers won the rebounding battle Monday, 52-36.
"The difference was today, we rebounded the basketball. We were physical, we blocked them out and we finished the possessions with a rebound. We had not been doing that before," Pitino said.
The Gophers controlled the game from the opening tip, and Carr's step back 3-pointer to end the first half gave Minnesota a 36-16 lead. They kept their foot on the gas in the second half, and the Spartans kept missing shots. The Gophers' lead was as big as 28 points in the second half.
Minnesota had 13 players see the floor Monday night, and 11 of them scored. Seven players had at least six points, and they shot 15-of-17 at the free-throw line.
The Gophers became one of nine teams ranked in the top 25 on Monday, and they're embracing the new stage. They've also earned it, all while not panicking after getting blown out at Illinois.
"I definitely think we're excited because we've worked really hard. We're not really surprised, we've put in the work, but seeing the results is definitely a pleasant surprise. We've gotta keep putting in the work so we can keep getting these results," Robbins said.
The road doesn't get any easier. Minnesota will spend New Year's Eve at No. 6-ranked Wisconsin, which lost at the Kohl Center Monday to Maryland. Johnson says the Gophers are finding their chemistry and identity amid the gauntlet of the Big Ten. Their first eight league games are against ranked opponents.
"All we've got to do is come in and play hard, have a lot of effort on both ends of the floor. If we check those off the checklist, we're going to be perfectly fine I believe," Johnson said.