Gophers blown out by Illinois, 94-63, fall to 6-10 in the Big Ten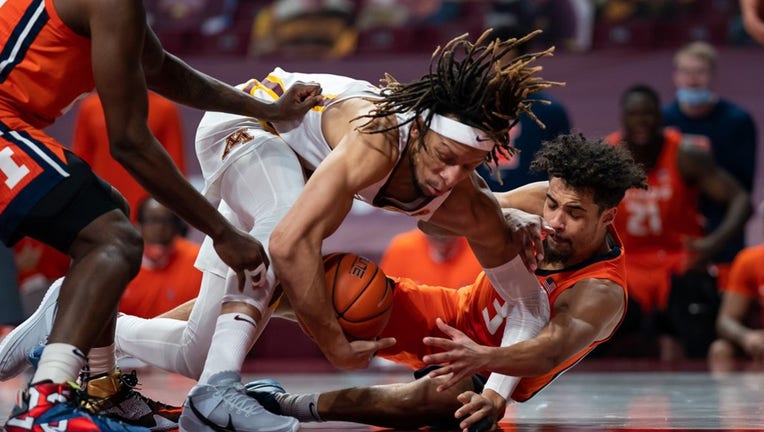 article
MINNEAPOLIS - Gabe Kalscheur is out at least three weeks with a broken finger on his shooting hand, and Liam Robbins is trying to gut through a bad ankle injury.
The University of Minnesota men's basketball team need both of them healthy to get to the NCAA Tournament, and those hopes took another hit in a 94-63 loss to No. 5-ranked Illinois on Saturday at Williams Arena in a game that was aired on Fox 9. It's the Gophers' third-worst home loss in program history, and worst since an 81-47 loss to Purdue in January of 2018.
Kalscheur won't be back until likely the postseason, if there is one. Robbins didn't score, had only one rebound but did block five shots in the first half. He played only 13 minutes, standing from the bench most of the second half with the game out ouf reach.
For Illinois, it's their first road win in the Big Ten by at least 30 points in 21 years. The Gophers (13-10, 6-20) drop to 13-2 at home this season, have lost three straight and now have four games left before the Big Ten Tournament try to solidify a bid to the NCAA Tournament. It also guarantees Minnesota can't finish any better than .500, at 10-10. But the bigger concern after Saturday was getting run off their home court by one of the top teams in the country.
"We've just got to have a sense of pride. We can't let guys come in like today and just do what they want to do," said forward Eric Curry, who scored just two points in 11 minutes. "We've just got to have a sense of pride. Can't let people come in Williams Arena and just do us like that."
The Gophers kept it close for much of the first half before Illinois pulled away. The Illini delivered an early dagger when Trent Frazier stole a Tre Williams pass, then hit a half-court shot at the buzzer as Illinois took a 48-33 lead into the half.
The Illini then scored the first six points of the second half, and the rout was on.
"It's on all of us, that one. It's on everybody, and we've just got to learn from it and move on and see if we can get some continuity going," Gophers coach Richard Pitino said.
Ayo Dosunmu had a triple-double, the second in his last four games, to lead Illinois. He scored 19 points, grabbed 10 rebounds and had 10 assists. Kofi Cockburn added 22 points on 9-of-12 shooting, Frazier had 15 points, four assists and three rebounds as four Illini players scored in double figures.
Illinois shot 56 percent from the field, including 7-of-14 from the perimeter, and had seven dunks in the game. The Illini out-scored Minnesota 48-20 in the paint, and had 24 points off 18 Gophers' turnovers. Illinois also had 31 fast break points.
"They were really good, give them credit. I thought our offense just led to too many baskets for them. If you turn it over, they're going to turn it into a touchdown. They were really, really good and we broke down there," Pitino said.
Jamal Mashburn Jr. led the Gophers with 16 points. Marcus Carr and Brandon Johnson had 12 each, and Tre Williams added 11 points.
The Gophers now have four games left before the Big Ten Tournament, a stretch that starts Thursday as they host Northwestern. They have road games left at Nebraska and Penn State before hosting Rutgers to finish the regular season. Minnesota is 0-8 on the road this season, and likely needs a 3-1 finish to feel completely safe for an NCAA Tournament bid.
They're on the bubble after being ranked as high as No. 16 earlier this season.
"I believe if we just stick to our principles and keep working hard, everything will work out in our favor. Keep that mindset and work hard every day. I believe that we'll be perfectly fine going into these next couple games," forward Brandon Johnson said.