Gophers: 3 players head to NHL days after NCAA title game loss to Quinnipiac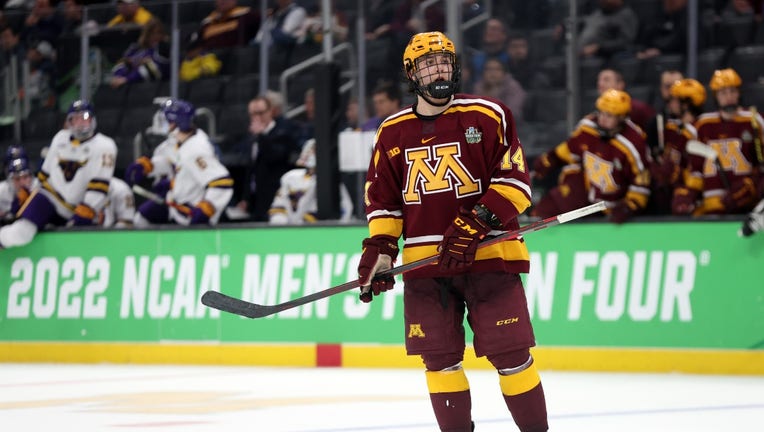 article
MINNEAPOLIS (FOX 9) - The University of Minnesota men's hockey team couldn't leave Tampa with its first national championship in 20 years after a 3-2 loss in overtime to Quinnipiac Saturday night in the NCAA title game.
Minnesota had a 2-1 lead in the third period, but Quinnipiac tied the game 2-2 with 2:47 to play in regulation, then got the game-winner just 10 seconds into overtime.
"That one's going to sting. That's a crusher," Gophers coach Bob Motzko said after the loss.
Less than 24 hours after the heartbreaking and gut-wrenching loss, three players are leaving the team to pursue NHL careers. Sunday, Brock Faber officially passed on his final season of eligibility with the Gophers and signed a contract with the Minnesota Wild, who traded for his draft rights last year.
Faber had a career-high four goals in 23 assists this season for the Gophers, and in 97 career games, had 53 points. He was the Big Ten Defensive Player of the Year as a junior. He'll make his Wild debut Monday night against the Chicago Blackhawks.
Also Sunday, sophomore Matthew Knies signed an entry-level contract with the Toronto Maple Leafs. He helped lead the Gophers to consecutive Frozen 4s, and was this season's Big Ten Player of the Year.
He had 21 goals this season, and was a top-three finalist for the Hobey Baker Award. This year, he had 21 goals and 21 assists, and led the NCAA with seven game-winning goals. In 73 career games, Knies had 75 points, including 36 goals.
On Monday, Jackson LaCombe signed an entry-level deal with the Anaheim Ducks. The senior defenseman was a second round pick in 2019 and finished with a career-high 35 points this season, fourth on the team, including nine goals and 26 assists. He was a Second Team All-Big Ten pick.
In 140 career games, LaCombe had 19 goals and 80 assists. He had one year of eligibility remaining due to the COVID-19 pandemic, but opted to not use it and head to the NHL.
Three players have left, and there might be more. Logan Cooley, the No. 3 overall pick last year, is expected to turn professional as well.