Gary Kubiak feels 'fortunate' to be with Vikings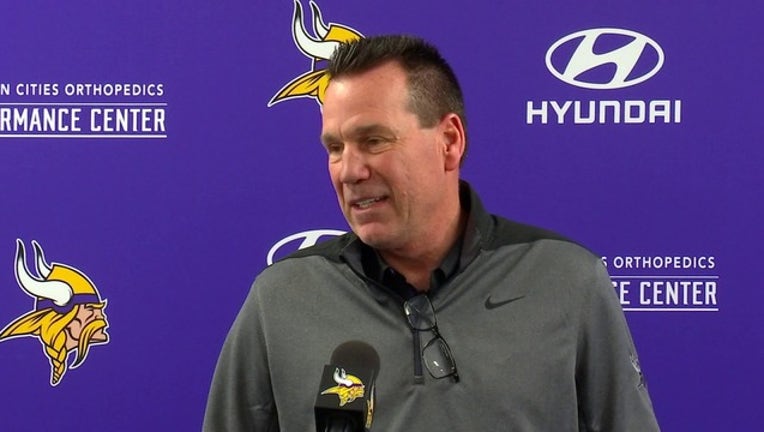 EAGAN (FOX 9) - Gary Kubiak couldn't stay away any longer from the grind that comes with coaching in the NFL.
Kubiak had to step away from coaching two years ago for health reasons. He found a healthy and less stressful middle ground by being a senior personnel adviser for the Denver Broncos, and evaluating college players. He did so from his ranch near Houston, Texas, which allowed him enjoy a life of his own while still being involved in football.
But as he said Thursday, he missed the grind of team meetings and Sunday game days. He's now the assistant head coach to Mike Zimmer and a Vikings' offensive advisor.
"I've been in this league 30-some years as a player and coach. Heck, I missed it. I really did. There's just something about at the end of the week did we get a W or not? That feeling," Kubiak said. "I missed being in there with some of those coaches and battling each week. I love being around the players and I love to teach, so this gives me an opportunity to do that."
Kubiak was the head coach and the offensive play-caller for the 2015 Broncos, who defeated the Carolina Panthers in Super Bowl 50. Kubiak has been in seven Super Bowls as a player and/or coach.
Now, his job is help offensive coordinator Kevin Stefanski and the Vikings' offense find a healthy marriage in how they get the football down the field. He's also aiming to help one of the NFL's worst rushing attacks last year become more consistent, which would make the Vikings less predictable on offense.
Kubiak's son, Klint Kubiak, is the team's quarterback coach. He'll also get to work with a former colleague in Rick Dennison, the team's offensive line coach and run game coordinator. It's all in an effort to work with Stefanski in his first full season as an offensive coordinator. Gary Kubiak will be an active mind in team meetings throughout the weekly grind of the season, and be a presence in the booth on game days.
"From my perspective, a first-time coordinator, I would've been foolish not to do everything in our power to bring in a guy who's been to seven Super Bowls as a player and a coach," Stefanski said. "I like to be surrounded by smart people. There's a couple more people sitting at our table now, but I think it's just helpful to have a bunch of smart people around."
Gary Kubiak and Zimmer have known each other for a long time, and have a mutual respect for each other when it comes to how a winning team should operate. Zimmer said himself after the Vikings missed the playoffs this season at 8-7-1 that his team lacked a tenacity, that it didn't consistently play with a chip on its shoulder.
The Vikings finished 30th out of 32 teams in the NFL in rushing, 20th in total offense and 19th in scoring. Zimmer and Kubiak are old school coaches. They believe a successful offense starts in the trenches, winning the battle at the line of scrimmage and running the ball.
As a team, the Vikings ran for at least 100 yards in just five of 16 games las season. Their season-high was 220 yards against the Dolphins in Stefanski's first game as offensive coordinator.
"I know the head guy here wants to be physical. He wants to be mentally and physically tough as a football team and I think that's where winning starts," Kubiak said. "Every good offense I've ever been around runs the ball pretty good. I believe in that, it gives you a chance to make big plays."
A former quarterback himself, Kubiak will also get the chance to work with Kirk Cousins. He's coming off throwing for nearly 4,300 yards and 30 touchdowns, but also had some of his worst performances of the season in the Vikings' most critical games.
Cousins threw for just 101 yards in the Minnesota's season-ending loss to the Chicago Bears, which eliminated the Vikings from the playoffs. He also had less than 200 yards passing against the Patriots (198) and Seahawks (199), both losses.
Cousins is entering the second year of a three-year, $84 million fully-guaranteed contract.
"I know he's driven to succeed, he's a hell of a player and we've got to do everything we can to help him out. I look forward to that relationship," Kubiak said.
Kubiak, 57, is a few months removed from a hip replacement but says other than that, he's healthy and feels good. He was an NFL head coach for 10 years and an offensive coordinator for 11 years. In addition to winning Super Bowl 50 as a head coach, Kubiak won two Super Bowls with the Broncos as an offensive coordinator in 1997-98, and as a quarterbacks coach with the 49ers in 1994.
That's four rings and a wealth of championship experience to a franchise that is 0-4 in the Super Bowl and hasn't won an NFC title game since 1976. They've played in the NFC Championship six times since.
Kubiak's top priority, for now, is helping the Vikings' offense regain its identity and being a helpful voice on the offensive coaching staff.
"I think as a group, Kevin's got a job to do. It's our job as coaches to help him in any way we can. I feel very fortunate to be here," Kubiak said.