Former Gophers stars Brock Faber, Matthew Knies make NHL debuts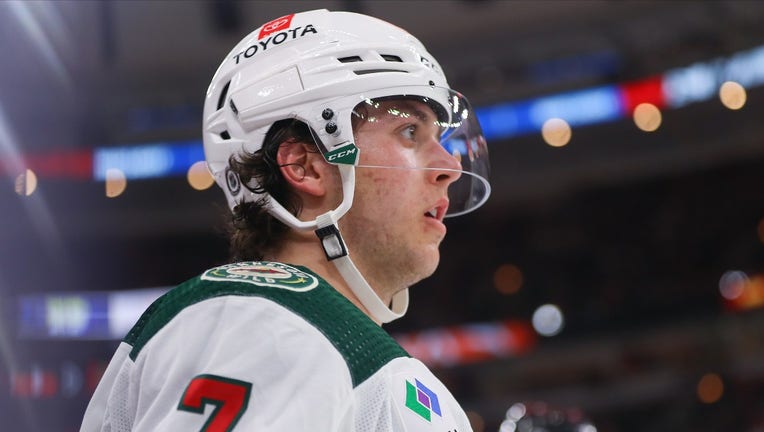 article
MINNEAPOLIS (FOX 9) - It has been a whirlwind few days for Brock Faber and Matthew Knies.
Saturday night, the two University of Minnesota men's hockey stars were stunned an emotional after a heartbreaking 3-2 loss in overtime to Quinnipiac in the NCAA title game. By Sunday afternoon, both were off to the NHL.
Faber signed an entry-level deal with the Minnesota Wild, as did Knies with the Toronto Maple Leafs. It turns out the Wild needed Faber, with four players sitting out to heal injuries before the Stanley Cup Playoffs. Faber finished with one shot on goal, six blocked shots, 24 total shifts and 21 minutes, 49 seconds of ice time, which led the team.
"We had a lot of confidence. We talked to him between how much to play him, this and that. He deserved to be out there. Real good start for him," Wild coach Dean Evason said after the win.
Most importantly, the Wild came back from trailing 2-1 after two periods to beat the Chicago Blackhawks 4-2.
"It was, still king of trying to take it all in. It was such a cool night and topped off with a win, which was huge. Super fun. It was a special night, thankful for this opportunity," Faber said after the win.
As is the ritual for rookies playing in their first game, Faber got to read the team's starting lineup to his teammates in the locker room before they took the ice. He also got to do a lap by himself pregame, taking a few shots on net, before his teammates joined him to let it sink in he was making his NHL debut.
"It was cool. I was just really focusing on trying not to fall, to be honest. Maybe hit the net, but not falling first," Faber joked.
Same goes for Knies. The Hobey Baker Award top-three finalist had one blocked shot, one hit, 18 shifts and 13 minutes, 9 seconds of ice time as the Maple Leafs got a 201 overtime win over the Florida Panthers.
There's a good chance Faber will have plenty of family and friends get to watch him play his second NHL game Tuesday night, as the Wild hosts the Winnipeg Jets in its last regular season home game at Xcel Energy Center.