DraftKings founders send message to daily fantasy players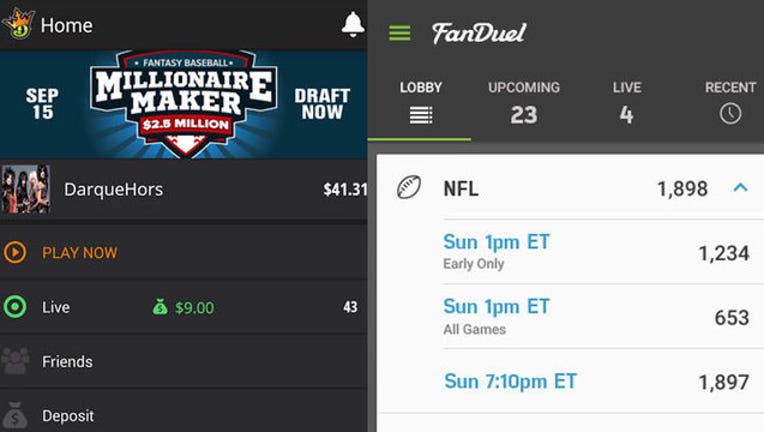 article
(KMSP) - DraftKings co-founders Jason Robins, Matt Kalish and Paul Liberman sent an email to all registered players Friday morning to confirm an external review of company policies and procedures. 
DraftKings employee Ethan Haskell recently published data on the company's blog, revealing the most-used players in the popular Millionaire Maker contest before all the games kicked off -- data that could allow some players to improve their odds of winning. That same week, Haskell won $350,000 playing on rival website FanDuel.
Thursday, a Kentucky man filed a lawsuit against DraftKings and FanDuel in federal court in New York. The lawsuit seeks class action status and accuses the daily fantasy sports sites of negligence, fraud and false advertising. 
DraftKings message to players
As the three co-founders of DraftKings, we want to speak to you directly about what has been going on.
We know that you play DraftKings because it's fun and because it gives you a chance to showcase your skills against millions of other fans, and we know that you cannot do that without a level playing field.
The fairness and integrity of our contests has been at the heart of everything we have built since we started the company three and a half years ago.
Over the past week, questions have arisen around an employee of ours who won a significant prize on a competitor's site. While our internal investigation has reflected absolutely no wrongdoing on his part, this has still pushed us to reevaluate our processes.
Long before this happened, the wheels were in motion for an external review of our policies and procedures. Given the pace of our growth, we felt that an audit was critical to ensure the security of our platform, so we hired an external law firm experienced with these issues to conduct a full review.
But that is not enough. In addition to this audit, we have put in place a set of core measures that we believe are central to this process:

We expanded our existing policy prohibiting DraftKings employees from playing on our site to prohibit participation in any public daily fantasy sports contests for money.
We also will prohibit employees from any other Daily Fantasy Sports contest operator from participating in games on DraftKings.
We are actively reviewing our organizational structure and will add resources to ensure compliance with all recommendations stemming from internal and external findings.
We are working with multiple third parties to strengthen all internal policies and procedures.
The events of the past week have caused us to take a broader look and to ask those both here and externally to widen the scope of their analysis of our business.
We are aware that there is room for growth, regardless of the strength of our current platform. We will work tirelessly to improve all aspects of our customer experience, which is every bit as important to us as the effort we put into our product.
You will no doubt continue to hear from the media about both DraftKings and the industry. It is our prerogative to keep driving that conversation ourselves. We will work to respond to your concerns in complete transparency and to inform you of the steps we are taking to inspire your full trust.
Please know how grateful we are for the passion and loyalty you have shown DraftKings throughout our history and especially over the past week. You remain our greatest priority.
Thank you,
Jason Robins, Matt Kalish & Paul Liberman
Co-Founders, DraftKings